Home > News > PTI

Mulayam orders probe into Mau riots

October 17, 2005 16:55 IST
Last Updated: October 17, 2005 19:02 IST



Under attack from the Opposition for the communal strife in Mau, the Uttar Pradesh government announced a three-member committee on Monday to probe the circumstances that led to the riots and the role of district officials and public representatives.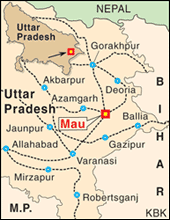 The committee would be headed by Neera Yadav, state Revenue Board chairperson, Chief Minister Mulayam Singh Yadav said at a news conference in Lucknow. Yadav said that the committee would submit its report within three weeks. The names of other members of the committee will be announced shortly.
Yadav said that the toll in the communal clashes that broke out in Mau over Dussehra festivities was seven. In all, 252 people had been arrested in connection with the riots and 36 people, including eight policemen, had been injured.
The chief minister said the new administration officials posted in the district had yielded positive results and the situation was now limping back to normal.
© Copyright 2005 PTI. All rights reserved. Republication or redistribution of PTI content, including by framing or similar means, is expressly prohibited without the prior written consent.



What do you think about the story?








Read what others have to say:





Number of User Comments: 2








Sub: Re - Probe ordered into Mau riots

probe ordered....another committee.. Is'nt this Neera Yadav the same person, who on the Supreme courts direction was removed from the post of Chief Secretary's post. ...


Posted by Shreejit









Sub: Law

Indian judiciary is worst in the world. Lawyers and Judges are worst. They are worse than beggars.


Posted by Sachin Manchanda






Disclaimer