Home > News > First Look


Mumbai's brand new train

rediff News Bureau | October 17, 2005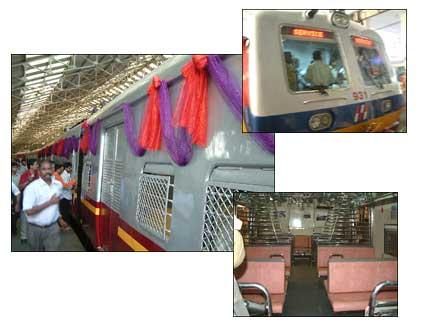 For those compelled to commute in Mumbai, here's a question on a lot of minds: What is the new train like?
The train in question is the Western Railway's Millennium Train, which has been given an overhaul focusing on commuter comfort. Here, in answer to that question, is what you can expect:
The nine-coach train will have a state-of-the-art stainless steel look, stronger railings, comfortable foam seating, user friendly signs flashing names of stations coming up, and -- best of all -- lots of light and fresh air thanks to overhead ducts and a lot more fans.
There's also a two-way radio system, leading to better communication between the engine driver, guard and passengers.
Set to run on a trial basis for a while, the Railways intend to introduce more coaches based on commuter feedback.
Given a green signal at Churchgate earlier on Monday, the Millennium Train ran until Bandra. The reaction so far -- The Railways have not splurged on a new train. They have just refurnished an older one.
Photographs: Arun Patil


What do you think about the story?








Read what others have to say:





Number of User Comments: 10








Sub: No big deal

Cosmetic changes here and there will not really solve problems that commuters face today.More thought should be applied to Safety,Higher Speeds,Aesthetics and Hygiene.We have a ...


Posted by Joseph Nathan









Sub: new trains

another way to make money


Posted by vishalkejriwal









Sub: New Wine in Old Bottles!

I just saw photographs of the Mellenium Train - Bombay's apology for a state-of-the-art mass transport and a rather half hearted attempt at showing Delhi's ...


Posted by Pradeep Gaikwad









Sub: Mumbai's brand new train

There's nothing sleek about these trains - seems same as the old things coming out of the railways coach factory except maybe some foam padded ...


Posted by labrea









Sub: incrise friquincy

Incrise friquincies of virar trains at pick hours 5pm to 10 pm atlist borivali virar every after 20 min regards richard nunes ...


Posted by richard nunes






Disclaimer