Home > News > Report

Hasan creates Ravanas

Sharat Pradhan in Lucknow | October 12, 2005 05:11 IST
Last Updated: October 14, 2005 02:51 IST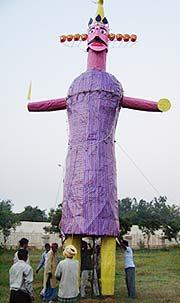 Stroll down to any prominent Ram Lila site in Lucknow and you will witness true national integration.
Not only do Hindus and Muslims live in unity here, they also work together to painstakingly create giant effigies of Ravana, his younger brother Kumbhkaran and son Meghnath. And they have been putting together these traditional symbols of evil in tandem for three generations.

And there is more to the story. The Hindu family working on producing Ravanas belongs to Dalit community. "Making Ravanas is not a ritual or business. It is a passion for us," says Fakira, the 65-year-old patriarch of the family, whose two sons, Raju and Sunil had virtually stepped into his shoes. Even 10-year-old grandson Rishab seems to play a part.
The entire family was on the job, when this reporter interviewed them at Lucknow's sprawling Ambedkar Maidan, where their symbolic Ravana would meet his end on Wednesday evening .

The task would be incomplete without the input of the equally involved family of  Mahmoodul Hasan. His folks too have been in this profession for three generations. Hasan and his clan provide the firecrackers that are stuffed into the ten-headed demon's innards.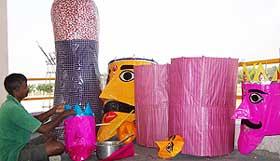 "We have been into manufacturing crackers and  fireworks [for as long as I can remember]. My father did it. My grandfather did it and I am following in their footsteps," says Hasan (left).
It is indeed quite a coordinated effort that gives shape to the three colourful  40-foot tall  structures that will go up in flames in front of  least 100,000 people who congregate here on Vijay Dashmi evening, year after year.

"We have fixed 501 crackers in each of the three effigies and the arrow to be fired by Ram to send them into flames will also be provided by us," explains Hasan.

And what does he get in return for all the material and labour? "Well, money is not the consideration. We neither demand a price nor is any amount fixed. But the organisers still make it a point to ensure that we get just enough  to meet our costs," says Hasan. 

"My father Mohammad Baksh, popularly known as Kallu Aatishbaaz, used to pack all the prominent Ravanas with crackers and fireworks until 1980. And I have been doing it for the past 25 years. It has become a passion for me,"  he says.

Fakira and his sons havreplicas of Imam Hussain's tombe the same logic. "It is not the money. The sense of achievement is fabulous and compensates for everything," says Raju. "We are content with whatever we get. Last time it was Rs 16,000 for the three effigies; the organizers have promised to keep in mind the inflation this year."
It has been many days of hard work. "We have been on the job since September. A lot of labour goes into drawing, cutting and pasting Ravana's ten heads and the faces of the other two. For the last 15 days we have been busy preparing the structure right on the ground here," Raju points out.

Adds Fakira, "This is not the only one. We have been working simultaneously on three sets of Dussehra effigies that will be set ablaze at different locations in Lucknow."

What does Fakira do for the rest of the year?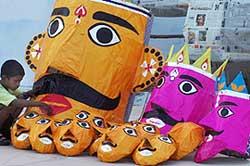 They spend most of the year making tazias, replicas of Imam Hussain's tomb for Shia Muslims. "It involves the same skill as is required in making Ravanas and the other Dussehra effigies." But right now all efforts are devoted to the Dussehra paper statues.

"We just have to tell Fakira and Hasan [to make the Ravanas] and then we can just forget about it," says Ashok Arora, the secretary of Lucknow  Mahabir Dal which organises the main Dussehra event. "We do it out of donations received from shopkeepers and other volunteers. In the past 56 years, since this organization was formed, the collections have proved to be more than sufficient to meet all the needs for putting up a show that is remembered by all," says Arora.


What do you think about the story?








Read what others have to say:





Number of User Comments: 8








Sub: error!!!

Please note that Meghnath was son of Ravana and NOT his brother.


Posted by ks









Sub: Hasan creates Ravanas.

In the subjected article in para 2 there is mistake to mention Meghnath as Ravana's brother. Please rectify Meghanad as his Son.


Posted by Dileep Tare









Sub: Meghanath is the son of Ravana and not the brother

In this article of Hasan Creates Ravanas, it is really good to see the brethern work together. But the author needs to know more of ...


Posted by Rajesh









Sub: meghnath??

Dear Author, Meghnath was Ravana's son not brother. suhas.


Posted by suhas jawale









Sub: Wrong Information

I dont know why but responsible people and portals like you avoid checking minute details. Meghnath was not Ravana\'s Brother but his son. Please do ...


Posted by Parikshit






Disclaimer