Home > News > Specials

The Rediff Special/Bhaskar Ghose

The prime minister & the fly

October 10, 2005



This is really disgraceful," he said angrily. "I was with the prime minister and as we were talking he looked at the television and some lady was singing and there was a fly in front of her face! She was waving it off. The PM is very angry."

I was dismayed and decided something drastic had to be done. The minister was, however, a little more canny than me. It helped that he was a lawyer, I suppose.

"I need evidence," he said conspiratorially. "What you must do is ask for a recording of that song. Say nothing about the fly. Just say you liked it and want to see it. Then we will see the fly and they cannot deny it."

I duly asked for a recording of the song. I rang the station director and told him I had rather liked the song and wanted a copy of the recording. He was very pleased and said he would send it over immediately. The tape arrived the same evening.

I watched it in my office.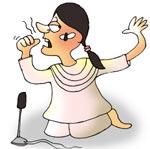 No fly.
I watched it again. No fly, not even a brief glimpse of anything remotely like a fly. Just the singer singing and occasionally waving her hands as classical singers sometimes do when singing a long gamaka or taking a high note.

I marched into the minister's office with the tape.
"Sir," I said loftily, with as much injured pride as I could muster, "if we do something wrong we certainly need to be told about it. But it is not fair to accuse us of what did not happen."
Then I showed him the tape. He was dumbfounded.
"You see, sir," I said with excessive politeness, "there is no fly."
"But I saw it," the minister said, looking bewildered. "The PM saw it. All of us saw it."

"What you saw, sir," I explained with some condescension, "was the singer making some movements with her hands. Singers do it, you know. Sometimes it could look as if they were waving off a fly."

"Yes," the minister said doubtfully, "I suppose that's true. But... I saw the fly!"
I gave him the tape. "Would you like to see it again, sir?"
"No, no," he said.
"I suggest you show it to the PM, sir. He may like to see it for himself."
"Yes, I will show it to him," the minister agreed. I left, making a dramatic exit in my best theatrical style, and noticed that the minister was still looking bewildered. A few days later he called me to his room and handed back the tape.
"The PM has seen it. He said he must have made a mistake."
I returned to my office and sent for the director of Doordarshan Delhi. When he came, I gave him the tape.
"Nice recording, Grewal," I told him genially. "I enjoyed watching it."
"Thank you, sir," he said, beaming. "She is a very talented singer, sir. But we had some trouble with the tape, sir, I am telling you frankly."
"Trouble?"
"Yes, sir," he said and laughed. "It was the fly, sir. The recording was made before the PM's visit, and that fly was in the studio. It was sitting on the singer's face and she had to wave it off. When you asked for it we did not want you to see the fly, so we edited the tape and removed the fly."

I stared at him. Finally I said, "That was very considerate of you, Grewal."

"No sir, no sir," he said happily. "You liked the ghazal, and so we had to give you a very nice copy. No fly."

No fly. Oh yes, I thought as I watched him go out of my room, no fly. The fly had been officially edited out and edited out it would stay. But I went to the Kendra the next day, with the engineer-in-chief, and got all the junk removed from the studio, which was then sprayed dense with insecticide. I told the director, who thought I had taken leave of my senses, to have it sprayed every day from then on.

"No, Grewal," I told him, "I'm not the one who's mad. A director who keeps his studio so dirty that there are flies in it as if it was a dhaba needs to have his head examined." Not long thereafter I moved him out of Doordarshan Delhi. The fly had nothing to do with it, of course.

Illustration: Uttam Ghosh
Tomorrow: When Rajiv was attacked in Colombo... Don't miss it!
To order Doordarshan Days online click here 
Excerpted with the publisher's permission from Doordarshan Days by Bhaskar Ghose, Penguin Books India, Rs 395.
The Rediff Specials


What do you think about the story?








Read what others have to say:





Number of User Comments: 2








Sub: Hilarious

Truly hilarious and amazing! Beats the "yes Prime minister" series in every aspect. Wish our "leaders" had something better to do.


Posted by Suchismit Ghosh









Sub: Truly interesting

it was interesting to know that how a fly could cause such a big stir in the PMO......... n how Rajiv Gandhi made sure all ...


Posted by Satyajeet






Disclaimer