Home > News > Specials

The Rediff Special/Bhaskar Ghose

The prime minister & the fly

October 10, 2005

Perhaps it was Rajiv Gandhi's extraordinary interest in television that made him decide to personally select someone to head Doordarshan. Whatever the reason, it certainly made me feel as if a floodlight had been turned on when I joined, and this was reinforced by the messages I got through the channels of power -- by way of the prime minister's office or the I&B (information and broadcasting) minister -- about something that had displeased him or, more rarely, something he liked.

Soon after I had taken over he summoned the minister, the secretary (a secretary is the senior-most bureaucrat at an Indian ministry) and me to a meeting. Not in his office in South Block, New Delhi and not in his office at Race Course road, but 30,000 feet above the earth in his special Air Force Boeing 737 on the way to Bagdogra, West Bengal from where he was continuing to Darjeeling and elsewhere to address some meetings. We were not the only ones who had meetings scheduled with him on the plane. There were other ministers and officials as well, all of us carrying every conceivable piece of paper we thought would be remotely useful during our exchanges.

We were shown into the prime minister's cabin in due course. Instead of asking us how Doordarshan was doing, or something similar, he began with, "Oh, here you are. I've been doing some thinking on what the organisation of Doordarshan should be. Here, take a look at this." And he pulled out some sheets of paper on which he had drawn a few organisational charts. One had as many as 11 additional DGs (director generals) under the DG (director general; Bhaskar Ghose himself). I suggested, hesitantly, that these were a few too many.

Rajiv responded instantly, almost eagerly. "No, not at all. You see, the problem as I see it is that the DG is inundated with a great deal of unnecessary work. Well, perhaps it isn't unnecessary, but it takes up a lot of his time. Now, these 11 chaps will do all of it and leave the DG free to think, to look at the whole network, and decide how best it could be improved."

Girish Mehra, the secretary, suggested that we take a little time and study the structure outlined and then come back to the prime minister with our suggestions. After some more discussion, Rajiv agreed, but before we were shown out he said, in his usual way, "Don't go to sleep on this."

When we came out, Mehra looked at me in astonishment. "Eleven additional DGs?" he asked. I told him the number did seem, to put it mildly, on the high side, but that I would work on it and try to preserve what Rajiv wanted -- freedom for the DG to study and think about major issues and policies -- without creating a vast bureaucratic empire.

I flew back to Delhi on a regular commercial flight and worked on the organisational plan Rajiv had sketched out. Eventually, after several attempts to define the specific nature of the work to be done, I was able to trim the proposed structure to three additional DGs, one deputy DG, a few more controllers of programmes and some corresponding increases in the engineering wing. I sent this off to the ministry, directly to the secretary, since he had been part of the discussions, and that was the last I saw of the plan. It may have gone to the prime minister with the minister's clearance, or perhaps it just sat on Ajit Panja's (the information and broadcasting minister) desk.

The next time I saw Rajiv it was later the same year, 1986, and it had to do with a fly.

The occasion was a live hook-up with leaders around the world, including (thenBritish Prime Minister] Margaret Thatcher, the secretary general of the United Nations and others, all of whom would speak on the importance of preserving wildlife and our planet's natural environment. While the other leaders were being linked through satellite connections from their offices, Rajiv had to come to the studio because we didn't have the facilities to take a live feed from his office and uplink it from there. Taking it back to the studio via a microwave link would have meant a one-way connection; this programme required that the leaders talk to and hear each other. That, given our technological progress at the time, was possible only from the studio in Delhi Kendra (Doordarshan's Delhi studio).

The studio was scrubbed and cleaned days before he was to arrive. It was a rather untidy place; part of the back was used to store bits of sets used for different programmes, props and other objects, since there simply wasn't room elsewhere to keep them. But they were decorously covered and the studio made to look as neat as possible. The prime minister arrived, went into the studio and sat down. He smiled briefly at me as he passed, and seemed to be in good spirits. The lapel mikes were duly fitted and we waited for the moment when the programme would go live the world over. An engineer who was in touch with his counterpart in London signalled that we were live.

Then, the fly appeared.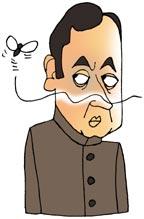 It flew lazily out of the stuff stored at the back and as Rajiv began speaking, flew right across his face. He continued to speak, pleasantly, without reacting to it, but when it made a few more passes in front of his nose, he waved it away and continued speaking. We watched apprehensively. I asked the director of Doordarshan Delhi in a whisper what sort of cleaning he had done and he replied that they had spent hours cleaning every bit of the studio.

As soon as the programme was over, Rajiv ripped off the lapel mike, his face dark with anger. He strode out of the studio, and turning to the wretched director, who had the misfortune of being the nearest, told him what he thought of his standards of cleanliness in very explicit language. Then he got into his car and the convoy swept away.
There were recriminations, angry expostulations, frightened explanations from the director and his staff. The minister demanded that someone be punished, but I managed to persuade him and the secretary that that would be taking things too far. It seemed a bit excessive to transfer someone, or demote him, because of a fly. The presence of the fly was inexcusable, but I felt a strong verbal dressing down was enough. Better inspections, a greater use of insecticides -- that was what was needed. I conveyed this to the director and asked him to inspect his studios himself every day.

Clearly, that was not enough. That fly was cleverer than we thought. A few days later I was asked to see the minister.

Illustration: Uttam Ghosh
To order Doordarshan Days online click here 
Excerpted with the publisher's permission from Doordarshan Days by Bhaskar Ghose, Penguin Books India, Rs 395.
The Rediff Specials


What do you think about the story?








Read what others have to say:





Number of User Comments: 1








Sub: the fly

Hello, It seems like Bhaskar Ghose is excusing himself like every sarkari babu , for incompetency. Do you realize the image we send to the ...


Posted by satish






Disclaimer