Home > News > Report

Former I&B minister Ravi Shankar Prasad shot at, out of danger

Sheela Bhatt in New Delhi | October 06, 2005 14:44 IST
Last Updated: October 06, 2005 19:50 IST



Senior Bharatiya Janata Party leader Ravi Shankar Prasad was shot at during an election rally in Nokha village, near Sasaram, in western Bihar, on Thursday afternoon.

He was immediately operated upon -- a bullet was removed from his left arm -- by a local surgeon, Dr Chittaranjan, at the Sasaram hospital.

Prasad is doing well and will soon return to Patna, a source in the state police said.

The rally was in support of local BJP candidate,  Rameshwar Prasad Chaurasia, who had filed a petition against the dissolution of the Bihar assembly by governor Buta Singh. The Supreme Court is slated to give its verdict in the matter on Friday morning.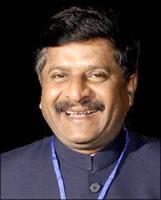 The incident occurred when Prasad and BJP leader Pramod Mahajan were on the dais, about to address the rally.
Prasad was shot at from behind, and was injured in the left hand.
According to an eyewitness, the assailant shot at Prasad from one-and-a-half feet away.
The assailant was brutally lynched by the crowd, and news agencies reported that he was dead. According to J P Singh, assistant sub-inspector from Nokha village, Prasad's assailant fell unconscious in the attack and under treatment at the Sadar government hospital, Sasaram.
However, Ashish Ranjan Sinha, Bihar's director general of police told rediff.com the assailant was dead. When informed of what J P Singh had to say, Sinha promised to get back. He told rediff.com his information about the assailant being dead came from Superintendent of Police Bachchu Singh Meena.
Another police officer in Nokha village took a philosophical view of the incident. "Violence? There is nothing to worry about. Honi ko kaun tal sakta hai? (Who can avoid what is written in your fate).
"No one can prevent such things."
Sinha said he has issued instructions to beef up the security cover for all political leaders who are on the campaign trail.
Both senior BJP leaders were in Nokha to address an election rally for Rameshwar Prasad Chaurasia, the BJP candidate who has been the local legislator for the last two terms.
Prasad for Indo-Pak ties in entertainment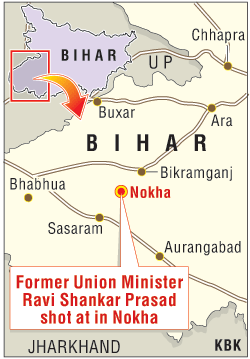 Chaurasia was also injured in the attack, Rohtas District Magistrate Vivek Singh told Press Trust of India.
Prasad served as minister of state for information and broadcasting with independent charge in the Atal Bihari Vajpayee government from January 2003 to May 2004.
An articulate and familiar face on television news channels, Prasad, a lawyer, is the brother-in-law of journalist-turned-Congress Rajya Sabha MP Rajiv Shukla and elder brother of Anuradha Prasad, who heads BAG Films, the production house which produces the popular Shekhar Suman show Poll Khol on Star News.
As I&B minister, Prasad was in the thick of things over the controversy regarding the Conditional Access System that sought to regulate the cable television industry.


What do you think about the story?








Read what others have to say:





Number of User Comments: 1








Sub: Ex I & B minister shot ...safe

The lawlessness in Bihar has played with the national security.We all are relieved to hear Mr Parsad safe and sound .It is high time for ...


Posted by Nksagar






Disclaimer