Home > News > PTI

16 dead in MP train accident

October 03, 2005 10:15 IST
Last Updated: October 03, 2005 20:17 IST



Sixteen people are feared dead and 60 seriously injured when the Bundelkhand Express went off the track and rammed into a railway signal cabin in Datia district, Madhya Pradesh at 8.10 am on Monday.

Sources said the toll is likely to increase as some people are feared trapped in the mangled bodies.

The driver of the train, who was among the dead, is believed to have informed the authorities at Datia railway station about failure of brakes, officials said adding, the exact cause of the accident would be known only after an inquiry.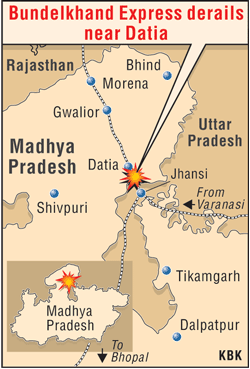 The train was travelling from Varanasi to Gwalior.
Six bogies and the engine of the train were derailed, a senior police official said in Bhopal.
The engine rammed into the cabin near Datia railway station while the bogies piled up, Inspector General of Police (law and order) A K Soni told PTI.
The injured have been taken to a nearby hospital. Relief van and helpline services have been despatched from Jhansi division, they said adding, the injured have been rushed to nearby hospitals for treatment. Local residents have also joined in the rescue and relief operations.
Senior railway and district officials have reached the spot to oversee relief and rescue operations.
Railway sources said that the accident would not have much impact on the train movement on the route.
Meanwhile, Railway Minister Lalu Prasad Yadav said the commissioner of railway safety will probe the accident.
Prasad told reporters that he had been informed by officials that the train was travelling at a speed of 90 kmph, much in excess of the 15 kmph prescribed limit, on the loop line when the mishap took place.
He said he had instructed the two ministers of state for railways -- R Velu and Narainbhai J Rathwa -- to visit the site at Datiya district, 300 km from the Madhya Pradesh capital, but he will not be able to go due to preoccupations.
Lalu Yadav announced ex-gratia of Rs 5 lakh and a job to the dependents of those killed in the mishap. The railways will bear the cost of treatment of all the injured.
"Only a detailed inquiry by the commissioner of railway safety will throw light on the reason behind the tragedy," he said when asked if it was caused by human error.
Prime Minister Manmohan Singh expressed shock and grief over the rail mishap. He conveyed his condolences to the kin of those dead and injured in the accident, Sanjay Barua, media adviser to the prime minister said in a press release.
Jhansi Railway Helpline: 0517 - 244 - 0441
Gwalior Railway Helpline: 0751 - 237 -100
© Copyright 2005 PTI. All rights reserved. Republication or redistribution of PTI content, including by framing or similar means, is expressly prohibited without the prior written consent.



What do you think about the story?








Read what others have to say:





Number of User Comments: 3








Sub: comment

before a trainleave a station driver shud mak it confirm tt everything is working properly. for tht thr shud be some electonic mechanism which inform ...


Posted by Abhiit









Sub: Train accident in India

The train accident in india is not a shocking news to the world since the Laluprasad took charge as railway minister in the UPA cabinet.He ...


Posted by gopinathapai,chicago









Sub: ----------

In india trains is good for common people. it derails break the confidence of common people. After a good fair the trains derails .Who is ...


Posted by alok






Disclaimer