Home > News > Capital Buzz

Virendra Kapoor | November 29, 2005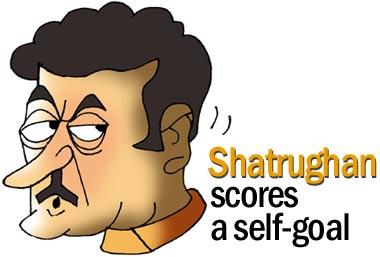 Bollywood actor-turned-politician Shatrughan Sinha's days as a member of the Rajya Sabha are numbered.
This time around, he shot himself in the foot by first playing hardball with the BJP leadership. Later, when it dawned on him that the JD-U-BJP combine might emerge victorious, the party leadership calculatedly rebuffed his efforts to put in an appearance or two on the campaign trail.
Now Shotgun is without a friend in the BJP's higher echelons.
As for Chief Minister Nitish Kumar, well, he never had anything to do with the actor and is determined to keep him at bay.
When the campaign first began, every senior BJP leader tried to persuade the actor to join in. But Shatru made himself scarce. However, as the campaign drew to a close, he sent an SOS to the leadership, making himself available for campaigning. This time, the party rebuffed his overtures.
A clear fall-out is that he will not have anyone in the BJP back his claim for renomination to the Rajya Sabha when his term ends early next year.
PM packed him off, Lalu brings him back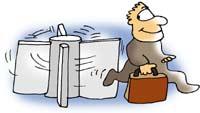 Some months ago, senior IAS officer Lalgudi Vaidhyanathan Saptharishi caused quite a controversy by accusing Election Commissioners B B Tandon and N Gopalaswamy of harbouring an anti-Yadav bias.
It was his case that, as a special election observer several months earlier during the Bihar Lok Sabha election, he had been specifically instructed by the two ECs to undermine the cause of the Yadavs.
The resulting furore had obliged the prime minister to publicly chastise him. Saptharishi was then posted as director general of the Council of Advancement of People's Action and Rural Technology -- CAPART -- under the ministry of rural development -- headed by Lalu Yadav's chief lieutenant Raghuvansh Prasad Singh.
Days before his retirement, he was duly repatriated to his parent cadre.
But not for long. Saptharishi is now back in the capital.
The RJD bosses have found him post-retirement employment under the aegis of the central government itself. In a neat little stratagem, the rural development ministry has allowed Saptharishi to constitute a federation of various NGOs working under CAPART. He has become founding president of the federation for which substantial funds have been separately released by the ministry. He enjoys the status of a full-fledged secretary and draws an equivalent salary and allowances.
In short, between him and the minister of rural development, they have thumbed their nose at the PM.
K C Tyagi for Rajya Sabha
One man set to be rewarded for his patience and loyalty to the Janata Dal-United is party general secretary K C Tyagi.
A former student leader from western UP who cut his political teeth under the late Chaudhry Charan Singh, KC had lost the last parliamentary election by a slender margin from a constituency in his home state.
Now, he is to be sent to the Rajya Sabha by the JD-U from Bihar when the biennial elections become due early next year.
Leaving the core untouched
Following the Volcker disclosures, the Enforcement Directorate has interrogated some half a dozen suspects, including Andy Sehgal, Jameel Saidi and Arvind Khanna, a Congress MLA from Punjab, besides a few others. But, so far, it has not had the gumption to summon the common link to all the above-mentioned people -- namely Union Minister K Natwar Singh's son, Jagat Singh.
After all, it was because of Jagat Singh that Andy, who is his close friend, had travelled with him to Iraq as part of a Congress party delegation led by his father.
Jameel, a former Youth Congress functionary in Rajasthan, Natwar Singh's home state, was already in Iraq as he had established business links in a number of West Asian nations.
The Leader can do no wrong
In typical Gandhi family fashion, a conscious attempt is being made to distance Sonia Gandhi from the scam-scarred Natwar Singh -- at least in public.
As a long-time Nehru-Gandhi family retainer, Natwar Singh has been on the board of the Indira Gandhi Memorial Trust and Nehru Memorial Trust right from their inception.
Invariably, at annual functions of the two trusts, he has always been seated on the dais along with Sonia and the chief guest. Not this post-Volcker report year, though.
On the occasion of both annual functions this past week, his absence was noticed in political circles.
Whether he made himself scarce or was told to is hard to say, but the impression is unmistakable that the reigning deity at 10 Janpath likes to be Teflon-coated, in the sense that no taint should stick.
Advani no more a Gymkhana member?
Some years ago, Delhi's social and political circles were mighty amused over BJP president L K Advani's refusal to don a Western suit for the customary pre-admission interview by the selection committee of the Gymkhana Club.
In fact, the media had speculated for days whether the famous watering hole of the burra sahebs would relax its dress code or whether the Hindutva champion, who ordinarily sports a well-starched dhoti-kurta, would wear a tie and suit. In the event, Advani did show up wearing his dhoti-kurta.
At the end of the formality, he was happy to have been duly admitted as a full member.
That is why it was most surprising to find his name missing from the list of members brought out by the club.
There is only one Advani in the 2005 directory. And it is not Lal Kishenchand.
Illustrations: Uttam Ghosh
Capital Buzz


What do you think about the story?








Read what others have to say:





Number of User Comments: 3








Sub: Shatrugan Sinha should learn a lesson from Amitabh!

Of course, in south India, some film actors and actresses have been successful in field of politics such as M.G.Ramachandran, Jayalalitha in Tamil Nadu and ...


Posted by B.Gautam









Sub: Shatrughan a FLOP

Dear Shatru, U were worst as a actor but worst then that as a politician.U have foot in mouth disease. Good luck.


Posted by Darayus.M.Bhoja









Sub: Shatru--Not an enemy

Shatru made his own existence in the party very difficult but he is a human being, with small aspirations and needs recognition in the party ...


Posted by Tushar Gandre






Disclaimer