Home > News > First Look


Chinese warships at Kochi

November 28, 2005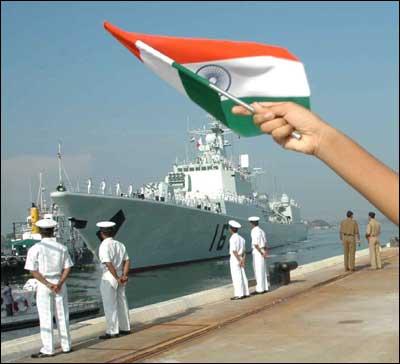 Indian and Chinese warships are all set to conduct their second joint exercise this week off Kochi.
The first such exercise was conducted off Shanghai in 2003.
On Sunday, the Chinese missile destroyer Henzhen and supply ship Weishanhu arrived at Kochi for the first such exercise in Indian waters.
The joint drill is the latest in a flurry of military exercises that India has been carrying out this year with the forces of major nations like the United States, Russia and France.
Indian Navy spokesman commander Vinay Garg says the exercise with the Chinese is "at a very basic level, as we still know very little about each other."
Chinese Navy officials have described the drills as an attempt to seek security through co-operation with India. Over the years, India and China have undertaken a series of steps to boost military relations through the exchange of observers for exercises and high-level visits.
The Chinese warships arrived at Kochi after a week-long joint exercise with the Pakistani Navy.
Photograph: Rajesh Idukki, Text: George Iype