Home > News > First Look


President visits quake-hit areas

November 27, 2005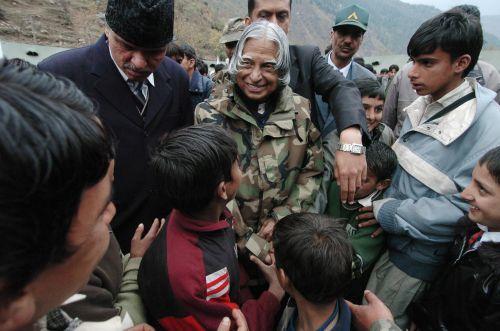 Jammu and Kashmir government on Sunday briefed President A P J Abdul Kalam, on a two-day visit to quake-hit areas, about relief and rehabilitation measures taken so far.
Chief Secretary Vijay Bakaya informed the President that with 'quick initiation of rescue operations' on October 8 by the Army and civil administration, precious lives were saved.
He said 222 sorties were carried out to airlift injured persons to various hospitals, restricting the number of deaths.
Bakaya said 846 school buildings were damaged and, due to the measures taken by the government, all the educational institutions had been made functional.
Similarly, 95 damaged water supply schemes were restored, sub-power stations made functional and electric polls erected, he said.
About Rs 96 crore had so far been disbursed while the remaining beneficiaries will be covered by the end of November.
Regarding medical facilities, he said 72 doctors and paramedical staff equipped with ambulances and medicines were deployed and were working round-the-clock in the affected areas.
They had distributed chlorine tablets and conducted a massive vaccination and immunization drive against water-borne diseases and Army medical teams also pressed into service for the purpose.
Dr Kalam talks with earthquake victims in Urusa, along the Line of Control.
Photograph: SAJJAD HUSSAIN/AFP/Getty Images
Text: PTI


What do you think about the story?








Read what others have to say:





Number of User Comments: 1








Sub: President Kalams Visit

How unfirtunate that it took Dr. Kalam two months to visit thi site of disaster. In comparison it just took Musharraf 2 hours after the ...


Posted by Aditya Kaul






Disclaimer