Home > News > First Look


Nitish takes Maa's blessings


November 25, 2005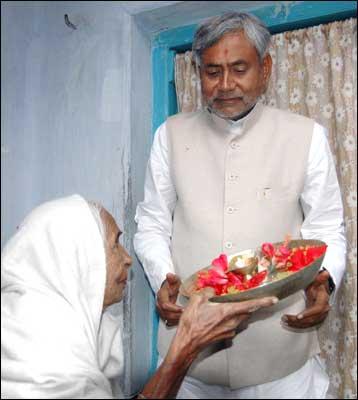 After taking over the chief ministership of Bihar Nitish Kumar dashed to Bakhtiyarpur in Bihar, the land where he was born and his mother still resides.
The town, 55 km from state capital Patna, gave a rousing welcome when its son arrived here a day after assuming charge of the state.
The new chief minister went straight to his brother Satish Kumar's house to seek the blessings of his mother Parmeshwari Devi. "Maa ke ashirwad mein badi shakti hoti hai. Main woh lene aaya hoon. (there is great strength in mother's blessings and have come to receive it)," Kumar said after his nonagenarian mother held him in tight embrace, her eyes filled with tears and heart with pride. "Deerghayu Howa (may you live long)" Parmeshwari Devi blessed her son in Magahi, the local dialect.
Also See: Nitish takes over laluland
Photograph: STR/AFP/Getty Images