Home > News > First Look


Nitish gets hero's welcome

November 23, 2005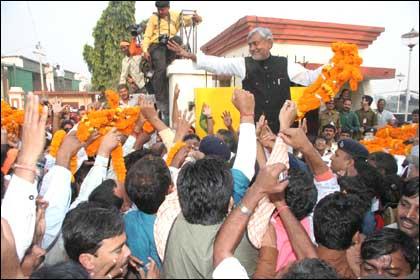 National Democratic Alliance's would-be chief minister Nitish Kumar Thursday arrived to a hero's welcome by over a thousand jubiliant Janata Dal-United and Bhartiya Janata Party supporters at the Jayaprakash Narayan International Airport in Patna.
As the service flight carrying Nitish was about to touch down, cries of Nitish Kumar 'zindabad' rent the air.
Kumar, who was accompanied by JD-U Parliamentary board chairman Sharad Yadav, BJP vice president Venkaiah Naidu, its general secretary Arun Jaitley and former Union Ministers Ravishanker Prasad, Syed Shahnawaz Hussain and Rajiv Pratap Rudy, had a tough time coming out of the VIP exit as the crowd had virtually laid a siege to it.
Nitish then sent for a table and stood atop it to accept the greetings of delirious supporters many of whom had vermilion smeared on their foreheads.
It took a contingent of Patna police led by Senior Superintendent of Police Kundan Krishnan about 15 minutes to clear the way for the convoy of Nitish.
NDA supporters carrying party flags and banners greeted their leader with slogans. They also chanted slogans in support of Election Commission's Advisor K J Rao, who was at the airport to catch a flight to Delhi, and sprinkled flower petals on the EC pointsman for conduct of fair and peaceful assembly polls.
Coincidentally, Rashtriya Janata Dal chief Lalu Prasad Yadav took the same flight out of Patna, which had brought Nitish in. About 10 minutes after Nitish had left the airport, Prasad arrived in his car. He zoomed into the VIP gate avoiding the media.
Photograph: UNI


What do you think about the story?








Read what others have to say:





Number of User Comments: 5








Sub: congratulation

Hi, I am giving congratution Nitish jee.You have got C.M post.so u shoud do better work.and we hope that u will do this. THANKS VIJAY ...


Posted by vijay









Sub: Congratulation & Message for Captain of New Era

Many many congratulation for historical win. The matter is not end but it starts now. It is the time to utilise your experience gain till ...


Posted by Akhilesh Kumar









Sub: concrete path

After a huge 15 years,bihar gets rid of lalu prasad yadav.really, the people of bihar wants development.Nitish kumar's victory tells that people of bihar has ...


Posted by v rajeev ranjan









Sub: First look:Nitish gets heros welcome

Dear sir, This euphoria of victory procession ...hero's welcome is all but natural in politics. Infact most of the fellows present may br hired people.The ...


Posted by K.Mahalingam









Sub: welcome change of regime in bihar

its graceful to see the ned of Lalu-Rabri regime in Bihar,and we now hope that ner CM of Bihar,Mr Nitish kumar,and co. will bring a ...


Posted by Ankush keshwani






Disclaimer