Home > News > Capital Buzz

Virendra Kapoor | November 22, 2005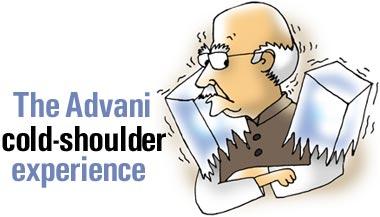 There is a long list of senior BJP leaders who expected their services to be requisitioned for the just concluded Bihar campaign but never got the call.
From former Union finance minister Yashwant Sinha to actor-turned-politician Shatrughan Sinha, quite a few senior leaders, including former Delhi CM Madan Lal Khurana, were not pressed into the campaign.
It is no coincidence that all of them were perceived as dissidents who had joined issue publicly with L K Advani in recent months.
Of all these leaders, the case of the two Sinhas is most interesting.
After the bifurcation of Bihar, Yashwant Sinha might now belong to Jharkhand, but has been intimately connected with the composite state's politics and would certainly have added weight to the NDA's electoral effort.
However, having made but a solitary press statement questioning Advani's take on Jinnah a few months ago, the party president has since cold-shouldered him.
Yashwant Sinha now sulks in his tent, feeling unwanted.
The case of the Bollywood star-turned-politician is different. Unable to shed his filmy ways and his penchant for seeing himself as larger than life, Shotgun Sinha first gave himself airs, pressing his claim as the NDA's chief ministerial candidate.
Rudely rebuffed, he went into a sulk and made it out through friendly scribes that he was unhappy with the party due to the questionable antecedents of some of its candidates.
The party saw through his game and took scant notice.
Then, Shatrughan changed tack and sent a couple of letters to the party president, voicing concern about the decline in the party's image due to its association with politicians with criminal backgrounds. Advani did not reply to any of the letters.
When the BJP's Bihar unit independently weighed the pros and cons of fielding Sinha as a campaigner, it decided against him as he indulges in starry airs, insisting on a dedicated small plane for his exclusive use and five-star lodging even in the interior of the backward state.
As for Khurana, the old RSS-Jana Sangh war horse has been marginalised by Advani ever since he openly challenged the latter a few months ago.
Though formally differences between him and the BJP chief have been sorted out, Khurana is yet to be accommodated in the party hierarchy in any meaningful way.
Jaitley Vs Shotgun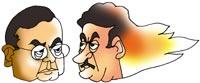 As he craves attention and seeks to grab it whichever way possible, Shatrughan Sinha has been taking pot shots at the BJP leadership in general and Arun Jaitley in particular since the latter -- as in-charge of the Bihar campaign -- did not deem it necessary to requisition his services.
In various recent print and television interviews, Sinha has pointedly referred to BJP leaders who 'defend corporate crooks and criminals' and then get into politics in their spare time, a not-so-veiled reference to Jaitley.
But Jaitley is unfazed by such barbs, believing the BJP-JD-U campaign in Bihar was the best possible under the circumstances.
As for Sinha's seeming attack on him for his defending industrialists in court, the legal eagle would like Shatru to remember that, as a professional actor, he had invariably portrayed a rapist, killer, or criminal more often than a gentleman on the big screen.
"If that does not disqualify him from active politics," says Jaitley, "why should a lawyer accepting briefs of corporate houses to earn an honest living feel at a disadvantage?"
Your turn, Shotgun.
Reversing the flow of funds?
Some years ago, Ottavio Quattorochhi -- the Italian whose name features in the Bofors controversy and figures on the CBI's most wanted list -- was allowed to flee this country in the dead of night by the then P V Narasimha Rao government.
Now, unknown to the world, his young son was recently in India with a woman companion in tow, doing the capital's social scene and familiarising his lady love with sights and sounds of a country he spent most of his formative years in.
Conversant in spoken Hindi, the junior Quattorochhi was also mulling options of attracting investment into India, specially the neglected eastern parts.
A nightly eyesore

Former Union minister Jagmohan has a bone to pick with most television news channels, especially the Hindi language ones.
For someone whose television viewing is confined to the nightly news bulletins, Jagmohan invariably finds his dinner made unsavoury by crude commercials advertising the supposed goodness of anti-constipation potions or, worse still, those meant to stop diarrhoea.
Switching to the English language channels is a poor option because they inflict ads about 'underwear and banians.'
Pat from Modi proves costly
IAS officers of the 1972 batch figure on the list of those to be empanelled as full-fledged secretaries to the Government of India.
Surprisingly, one name missing among the 36 civil servants is that of Pramod Kumar Misra, an outstanding officer by all accounts belonging to the Gujarat cadre.
Misra, presently posted as member-secretary of the National Capital Region Board under the Union urban development ministry, is considered the most deserving among his Gujarat cadre batch mates, having been given eight consecutive outstanding entries in his annual confidential record by superiors.
His omission is widely ascribed to the mistaken belief that he was close to Gujarat Chief Minister Narendra Modi, because the latter had praised his performance during his last stint with the state government.
While some of his batch mates who quietly networked with the Modi regime in Gandhinagar and the BJP-led NDA government in Delhi figure in the list drawn up by the UPA government, it is unfair on Misra, who has consciously avoided cultivating politicians of all hues throughout his career.
Downside of cellular phones

The Volcker report disclosures has once again established the primacy of the cellular phone as a handy tool of investigation for sleuths.
Following the naming of K Natwar Singh and the Congress Party as non-contractual beneficiaries, various intelligence agencies reportedly traced calls between various individuals associated with the former external minister and his son Jagat Singh.
Whether or not any of them was involved is for various agencies to figure out, but these post-disclosure calls gave Delhi's chattering classes a crucial anchor to base their brand of malicious gossip on.
Illustrations: Uttam Ghosh
Capital Buzz