Home > News > Specials

The Rediff Special/Shobha Warrier in Chennai

Chennai moral police, beware!

November 21, 2005

  
When Rajnikanth's film Baba was released, a political party went hammer and tongs at the superstar, for 'corrupting the youngsters of Tamil Nadu' with his onscreen drinking and smoking. His being a non-Tamil – he is a Maharashtrian from Karnataka -- was stressed upon. The self-anointed culture police attacked theatres screening his film. Rajnikant had to publicly apologise.
When Kamal Haasan, a Tamil himself, announced his film Sandiyar, another political party declared that the title hurt the sentiments of a community and glorified violence. When a defiant Haasan went ahead with the shooting, activists attacked his unit. No one came out in support of the beleaguered actor. Haasan had to change the title to Virumaandi.
When actress Khushboo stirred a hornet's nest with her advocating safe sex, the only person who came out in her support was Mani Rantam's wife, actress-director Suhasini. Now, she too is under attack from the 'custodians of morality'.
In all these instances of the culture police attacking public figures, there were no voices of dissent in Tamil Nadu. No free thinking individual or group came out in support of the doyens of the Tamil entertainment industry.
Things just might change a little, with the launch of www.karuthu.com on November 13.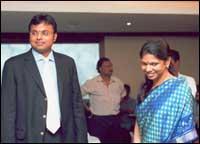 Finance Minister P Chidambaram's son Karthi Chidambaram and Dravida Munnetra Kazagham chief M Karunanidhi's daughter Kanimozhi are the driving force behind the online forum.
The web site says its 'foremost task is to voice its opinion against repression and to safeguard the fundamental rights of freedom of speech and expression.'
"I consider myself a reasonably free thinker. Kanimozhi is also a reasonably free thinker. So, we thought it might be a good idea to start a forum to articulate different viewpoints. We don't have any other agenda here," Karthi Chidambaram said about the rationale behind Karuthu.
"All that has happened in recent months have been very disturbing to all of us. You can differ from another person's opinion but this is not the way to retaliate," was Kanimozhi's take.
Though both insisted the forum's launch at the time of the Khushboo controversy was a coincidence, their Web site says, 'The recent efforts of some persons in Tamil Nadu to repress cultural forms, creative literary works and society's expressions cause a deep sense of anguish and concern.'
The site says there is 'a clear danger of trying to project such views of a limited section as the consensual views of society as a whole.'
In the trend, the forum sees traces of fascism. 'Self-styled protectors of culture are indulging in moral policing, trying to use violence to put down those who hold divergent views and creative ideas and expressions. Those crushed more by this repression are the youth, women and creative forces.'
Karuthu, according to the founders, is a forum where people who do not belong to any organisation can fearlessly express their views. 'We want all those people to come and express their views on any topic. You can air your opinion but it cannot be personal attacks.'
Why a web site? "We believe that in the 21st century, the Web is the most democratic forum. It has no physical area where you can block people off. Cyberspace is there for everybody," said Kanimozhi.
Wouldn't their political background hinder airing free opinion? "I am not denying that I am a member of a political party but if somebody is going to hold that against me, I can't do anything about it," said K Chidambaram.
Karuthu plans to have monthly meetings, the topics of which will be chosen from what is discussed on the site.
"We intend to have a lot of meetings in colleges. The decision to have meetings in colleges is because we feel it makes a lot more sense to address youngsters first. But we have to see the kind of feedback we get from people. That will be a good indicator for us to choose topics of monthly discussion," said the founders.
"We don't aim to solve all problems in one go. We are making a small effort to create awareness. As more and more people join, the forum will have a character and may even develop into a movement. Who knows?"
Photo: Sreeram Selvaraj
Also see
Sania distances herself from Khushboo


The Rediff Specials


What do you think about the story?








Read what others have to say:





Number of User Comments: 15








Sub: Political Gimmick

FM's son and the former CM's (save future) daughter, proclaims to be free thinkers have nothing to say their (karuttu) opinion/ideas/insight in karuttu. The portal ...


Posted by Ravishankar









Sub: Chennai moral Police

Karuthu is a good attempt; very much needed with the human rights violation being orchestrated by certain political group for theri advantage. I t shoudl ...


Posted by Ramani mv









Sub: Irony

It is the DMK and Karunanidhi in particular which is responsible for \"politics of intolerance\" in Tamilnadu. It is an irony that Karunanidhi inagurated a ...


Posted by SSIyer









Sub: Diversification of moral policing.

Moral and culture policing is good, but does moral and culture only pertain to sex, western culture bashing, and other inane issues? Why do we ...


Posted by Anthony J. D\'mello









Sub: I define u as a freedom fighter

Congragulation,I am an advocate practicing in kerala.i feel proud of ur initiation to start this forum.i was very much distrubed by recent unneccesssary contervesies and ...


Posted by zalazi kallangoden






Disclaimer