Home > News > First Look


Image: After Operation Jailbreak

November 14, 2005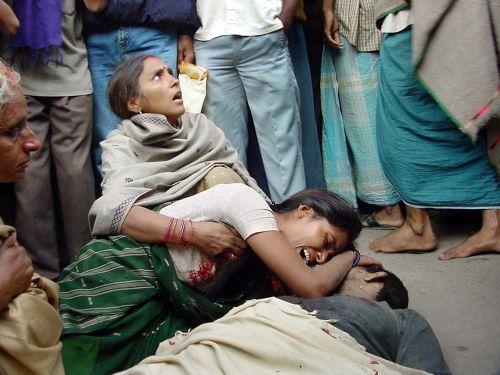 After lying low till the third phase of Bihar assembly elections, which they had boycotted, Maoists dealt a telling blow on Sunday night.
Hundreds of armed members of the Communist Party of India- Maoists stormed Jehanabad, 45 kilometres from Patna, and released at least more than half the inmates in the district prison.
In pamphlets left behind, the Maoists said 'Operation Jailbreak' was planned to coincide with the great November 13 Russian Revolution and its aim was to 'rescue our comrades and to award death penalty to select Ranvir Sena activists'.
When the mayhem was over, four people were dead and scores injured.
With the situation in Jehanabad still tense, Bihar has sent an SOS to the Centre for back-up forces.
Image: Women mourn after a relative was killed in Jehanabad jail.
Photograph: AFP/AFP/Getty Images


What do you think about the story?








Read what others have to say:





Number of User Comments: 11








Sub: protest of preation jailbreak

this is such a coward act of maoist.if they think therre is some mistake in system,they should talk to goverment in peaceful manner.what about the ...


Posted by anand









Sub: jailbreak

Rediff mail 10.11.05 article as follows "Are politicians are over protected " yes that is why " Jailbreak on 14.11.05 all police personals gone for ...


Posted by m_rajendran









Sub: jail Break in Jehanabad

Dear sir What you have seen is the culmination of the mis rule of Lalu era. The misrule has always been there. There has been ...


Posted by R.P.singh









Sub: zfter opertion jailbreak

media only supporting the bloodynaxalites..... they are dangerous to the country... they' are slave to the foreign ideology...... poor people follows them...without knowing the background.... ...


Posted by chandran.M









Sub: jehanabad attack

Sir, Seems India is again back to the days middle ages or those of the later moghuls, when anybody with a handful of men could ...


Posted by kk






Disclaimer