Home > News > First Look


First Look: SAARC turns 20

November 12, 2005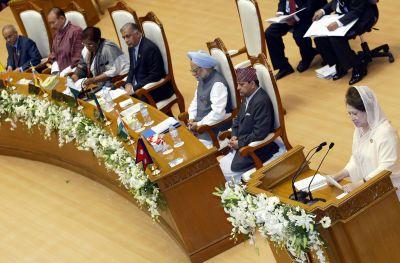 The 13th South Asian Association for Regional Cooperation summit opened in Dhaka on Saturday amidst tight security.
With the summit, the seven-member grouping founded in Dhaka in 1985 steps into its third decade.
Dhaka hopes the summit in Bangladesh will mark a watershed that sees the much-criticised grouping begin to deliver concrete results for the region's 1.4 billion people.
SAARC, founded at a summit in Dhaka in 1985, groups Bangladesh, Bhutan, India, the Maldives, Nepal, Pakistan and Sri Lanka.
Although it was set up amid high hopes of reducing poverty and fostering amity, peace and stability, critics say two decades of squabbling and mistrust has resulted in it falling short of its potential.
Will the third decade bring about a change?
Image: Bangladeshi Prime Minister Khaleda Zia (R) delivers a speech as (from left to right) Maldives' President Maumoon Adbul Gayoom, Bhutanese Prime Minister Lyonpo Jigmi Y Thinley, Sri Lankan President Chandrika Kumaratunga, Pakistani Prime Minister Shaukat Aziz, Indian Prime Minister Manmohan Singh, and Nepal's King Gyanendra listen.
JEWEL SAMAD/AFP/Getty Images


What do you think about the story?








Read what others have to say:





Number of User Comments: 1








Sub: Entire heading is wrong

SAARC has turned 20 and not 30 as written. it was founded in 1985 and not 1975 so it will turn 20 this year.


Posted by Vaibhav Shete






Disclaimer