Home > News > First Look


First Look: Sonia re-elected Congress Prez

May 28, 2005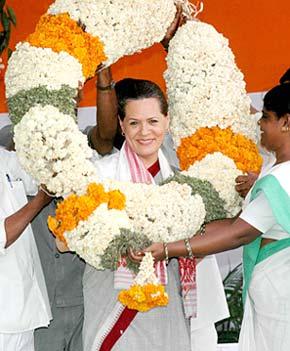 Sonia Gandhi was on Saturday formally re-elected as Congress president with the party's Central Election Authority announcing her unopposed election.
CEA chairperson Oscar Fernandes made the formal announcement in the presence of Gandhi and several senior leaders, Union ministers and party workers amid jubilant scenes at the Congress headquarters.
Fernandes presented a certificate to Gandhi on her election.
"I declare Sonia Gandhi duly elected unopposed president of the Indian National Congress," he said.
With 100 nominations proposing Gandhi's name for the top party post, the election was a mere formality.
Gandhi had replaced Sitaram Kersari as party president in 1998.
Photograph: Sondeep Shankar/ Saab Press


What do you think about the story?








Read what others have to say:





Number of User Comments: 5








Sub: Dynasty rule ????

Hello, I feel embrassed to know that congress having great leaders cannot select their president who really have a political experience. All expereinced leaders should ...


Posted by Anant Kulkarni









Sub: ok but.....

although it was obvious from the very beginning that Mrs. Gandhi will be selected unopposed as there was no contender in front of her .But ...


Posted by alok sharma









Sub: sonia gandhi as congress president

as long as gandhis are there no other individual in congress party will have enough corage to file the nomination papers


Posted by vijay naik









Sub: congress president

Only God knows what height She is destined to reach. I feel proud of her great anbilities. mm sahil


Posted by md.mazharhusain









Sub: Sonia gandhi elected President unopposed

That was quite expected. She earned this position by virtue of instilling the discipline in the Congress party otherwise this is the highly indisciplined body ...


Posted by krishan k arora






Disclaimer