Home > News > First Look


First Look: It's girls again

May 23, 2005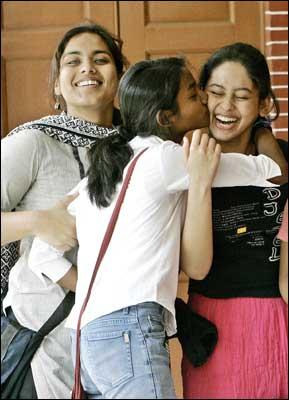 The CBSE Class XII results are out!
Is it a surprise that it is almost a repeat of the ICSE results? The girls have outshone the boys in exams once again.
A total of 4,20,240 students took the exams in five CBSE regions, of which 77.8 percent passed.
With an overall pass percentage of 83.17, the girls were way ahead of the boys, who got 73.78.
The results are available at:
www.results.nic.in
www.cbseresults.nic.in
www.cbse.nic.in
With Class X results likely to be declared on May 26, the boys have a chance to redeem themselves.
Jesus & Mary Convent School Class XII students in New Delhi celebrate their results.
Photograph: PRAKASH SINGH/AFP/Getty Images


What do you think about the story?








Read what others have to say:





Number of User Comments: 5








Sub: Why Compare

Still today girls don\'t have freedom as boys have. So only option available to girls is help her mom to cook and rest of the ...


Posted by ketan ingale









Sub: marks

there\'s no comparison of ability/dedication with the marks obtained.........its ephemeral!!!!!


Posted by Anuj









Sub: CONGRATS !!!

We Indians don't (I don't count those people as true Indians, who believe) believe in any discrimination on the basis of caste, religion, community, sex, ...


Posted by A K Rawat









Sub: Oops... WE did it again..!!!!!!!!

May b its high time the BOYS shud learn from Girls.....by not spending hrs over the internet , but becoming as sensible n as realistic ...


Posted by Chick









Sub: What is the point of this comparison?

There we go again... What are we trying to achieve by this comparison? First of all, it is just the pass percentage, and it does ...


Posted by Arun






Disclaimer