Home > News > PTI

Is Ram Jethmalani retiring?

May 20, 2005 19:29 IST
Last Updated: May 23, 2005 10:25 IST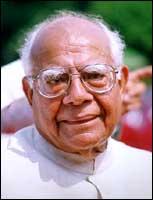 Is noted criminal lawyer Ram Jethmalani planning to retire?

If a signboard at his 2, Akbar Road home in New Delhi is any indication, one of the country's sharpest legal minds may soon hang his black gown. The message on the gate reads -- 'I am not taking any new court matters, but welcome for anything else.'
One of the last cases taken up by the 81-year-old lawyer was when he opposed a Public Interest Litigation seeking deletion of the word 'Sindh' from the national anthem.
Jethmalani was instrumental in getting a reprieve for Bharatiya Janata Party president Lal Kishenchand Advani in the hawala case.


Jethmalani announced his retirement from active practice on several occasions, but was pushed back into the court room by one famous case or the other.

Has he made up his mind this time?
© Copyright 2005 PTI. All rights reserved. Republication or redistribution of PTI content, including by framing or similar means, is expressly prohibited without the prior written consent.



What do you think about the story?








Read what others have to say:





Number of User Comments: 1








Sub: jethmalani

He is one of the finest legal brain and a true patriot INDIA could not take his true services for the Nation due to our ...


Posted by skumar






Disclaimer