Home > News > Interview

The Rediff Interview/Sanjay Pandey

March 24, 2005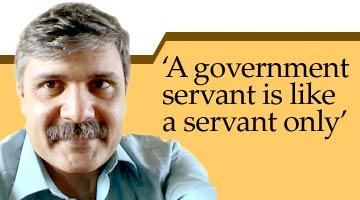 Sanjay Pandey is back in news. The Central Administrative Tribunal has ordered that the Indian Police Service officer from Maharashtra, who probed the shoe scandal, be reinstated in the force. Millions of rupees meant for cobblers were allegedly siphoned off by politicians, bureaucrats and shoe manufacturers.
After quitting the IPS in 2000, Pandey, who has graduated from the Indian Institute of Technology and done a public administration course at Harvard, worked in the private sector.
He later started a company dealing with cyber security. The police officer-turned-businessman feels vindicated by the CAT order.
Pandey, who also has political ambitions, discusses his career in the IPS and his plans with Special Correspondent Salil Kumar.
Are you joining the IPS again?
This is the result of a court case filed in 2003. The judgement is clear. It has directed the Indian government and Maharashtra government to reinstate me.
Why did you quit the IPS?
I had taken the decision because of some personal problems which forced me not to be in Mumbai. We were in Delhi at that time.
It had nothing to do with the IPS? There were reports that you were persecuted because of your role in the shoe scam.
Some postings did happen after the shoe scam, which took me to a training school, but I went to Harvard after that. After Harvard, I was in Pune for a few months. I was in the prime minister's security and was getting adequate money -- you get 30 percent more being in the prime minister's security. I don't think it had anything to do with the IPS.
You 'resigned' in 2000 but took your resignation back a year later. The 'resignation' was accepted in 2002. You claim you are still in the force.
It is true. It was quite surprising when I heard they accepted the resignation. Since they had not accepted my resignation for long, it was causing me problems in the kind of jobs I did in the private sector. You could not have continued doing the jobs holding the job in the police. Since they did not accept the resignation, I withdrew it in August 2001. Later I heard they accepted the resignation.
If you were part of the IPS, how could you work in the private sector -- hold an office of profit?
I had resigned with the full volition of doing my own work at that point of time. It was a clear thought. But due to some reasons the resignation was never accepted. It is not that anyone will wait for two years for the resignation to be accepted and not earn a livelihood till then.
Withdrawing the resignation was the only thing I could have done to ensure there was surety in what I was doing.
Between the time the resignation is tendered and accepted, can an IPS officer, or for that matter any officer from the civil services, take up a private job?
There is a timeframe for this. You cannot say that if you resign and the resignation is not accepted for five years you will have an officer standing on the streets. The moment you resign, you are not entitled to a salary or perks. There should be a timeframe.
It is not that one should resign and jump into a job right away. It is not like that. But the time here is two years, more than two years. April 2000 I resigned. They did not even recommend it till April 2002, forget about acceptance. Will it be a reasonable time? I would say this not only about myself, but for anybody who wants to start earning his bread.
You wanted to fight the Lok Sabha election. It did not happen. Why?
I want to be a politician. It will happen.
When?
Initially I thought politics was about getting votes from people. But after my last attempt I realised politics was also a matter of collecting money and passing it to the party.
I could not do that it. I am wiser. I will approach politics, if at all I do, with a clear view, that it is not only votes that count.
You are suggesting that if you will be a politician you will be a regular politician. Suppose X party wants to give you a ticket, you say you will be able to pay money to get it.
I don't quite see how I will be able to collect money and give it to them. I will not be so naïve.
On the one hand you say you are wiser. On the other you say you will not be able to give money.
That is the big question. I don't have an answer. I know that I cannot fathom seven-digit or eight-digit figures that need to be given. Anyway, things are changing. I am optimistic that next time I will be luckier.
You say this even after having gained 'wisdom'?
If you want to do something, if you have got your ideas that may bring about change, probably help society, being a servant is of no use. You may be closer to the government (as a government servant) but you are far, far away from effecting change.
Is this wisdom you gained after spending many years in the IPS?
It is true. At 23, you feel the government is probably being a government and a bureaucrat. Then I realised that being a government servant is like being a servant only. Nothing more than that. I know that even when I am waiting for the government to give me orders. What choice do you have? You can either be in the private sector -- far from the government -- or be part of it and try and make the final attempt.
You want to get back to the IPS to make a point, not to be a police officer again.
It is not a point that I am trying to make. I had withdrawn my resignation and it was wrongly accepted. The statement, if at all, has been made by the court, that the acceptance was wrong. In the given circumstances, it is the best I can do.
If the court had not given the judgment, you would have been okay with it.
I would have been nowhere. I cannot really say or do anything.
Can you talk us through your IPS career?
I always felt the IPS is a service. You are a servant to the people who are part of your charge. Be it the people, be it constables, officers. It gives you a very big area to work.
The job offers you quite a lot to extend the service. One thing is clear, you have to do whatever is told to you by the masters. The masters are the government. Being a servant you only service the master's agenda.
It is a limiting factor. It is what I realise.
When we say 'public servant,' it is used in a different context. You use the word 'servant' in the way it is normally understood.
You are no better, actually you are worse than a normal servant. All people who talk about themselves as a being very illustrated [sic] or a very highly dignified servant, they are absolutely wrong. I have been witness to instances where the masters in the government have treated servant worse than how I would treat my cook. This is my experience. It should be shared with more people. Probably they do not want to talk about it.
Give an instance.
I will not take names, but I remember that in normal circumstances, when a servant sleeps at midnight I don't call him up at 3 o'clock and say, 'Hey, what the hell. Is this the time to sleep?' I am talking about a very senior civil servant being called at 3 am and asked this.
Where was this?
I know things only about Maharashtra. I would not like to take names. I will not do it to my servant.
What other experiences? What about money for postings?
The point is…why are we debating this? It is an accepted fact that you are a normal servant. If you want to define servant the way it is given in the Oxford dictionary, it is up to you. The government that be, or which is today, would know what servant means as per the Oxford dictionary. They use it to that extent and they call you or probably make use of you to that extent, which is within their rights. Anybody who has an exalted opinion about what it is, has illusions.
A public servant happens to be a well-educated servant?
Public servant and government servant are two things. The public servant is the government, which people elect. It is for the public to demand. They are the masters there.
A government servant is a servant of the government, which is elected by the public. Anyway, it is clear to me.
Coming back to politics, assuming you get a ticket and get elected, what will be your agenda? You will quit the IPS, certainly, and take voluntary retirement.
[Laughs] I don't know about the voluntary retirement scheme, but political opportunity is an ambition, which if I get I would certainly look forward to. As for what I will do, it is too early for me to decide. But it will give me a very wide area to work in.
For someone with political ambitions, what is your constituency?
My constituency? Obviously the place I have worked in. I have worked closely with people in areas like Dharavi. I have a backing in that constituency (that houses Asia's largest slum settlement). Today, it is a dream. If I get into politics, it will be the constituency.
You say you have the backing of people, yet you spoke about the need to have the backing of a party too. If you have the backing of the people, why cannot you stand as an Independent?
This is something I studied closely during my first attempt. With my experience I can tell you, if you want to be a government servant, you have to take the Union Public Service Commission test and be a government servant. There are a exceptions, when someone has been appointed to the finance ministry, but it is a miniscule number. Most come via the UPSC.
The argument does not work here.
No, no. I am telling you. It is also an institution. The Lok Sabha or the Vidhan Sabha are institutions. Parties get represented. The parties are the conduit by which most people are there. There are a few Independents. But to get through you have got to be part of the channel that takes you to that.
The argument still does not work.
Why?
The UPSC is a channel through which people become government servants. Elections are a channel through which people reach the Lok Sabha or Rajya Sabha. To be a public servant your test is to win an election. You pass the people's test and get there. Now whether you win it as an Independent or on a party ticket is different. Getting a party ticket is not the test.
That is easier said than done. Today political parties have, for various reasons -- illiteracy is one of the bigger causes -- people are not able to. For example, most people in the constituency I am talking about don't know the symbol of any parties other than the two main parties.
It is fine. But if they know the person, you in this case.
If they do not know how to read, they recognise the symbol. Why do you have symbols? Most people don't know. They stamp the symbol.
In the Maharashtra assembly election many Independents won. In Jharkhand and Bihar too there are many Independents.
Who? Where? I am not talking about an assembly election. I am talking about a Lok Sabha election.
Even in the Lok Sabha, there are Independents.
The Independents are supported by local parties. Let me talk about Dharavi. In Dharavi, 28 percent are dedicated Congress votes.
Last year you tried for a Congress ticket. You did not get it. Why?
I was too naïve. I thought it was only through public support you could join a party. It did not happen. It does not happen. The clearest indicator was that nothing gets done in Mumbai. You have to meet people in Delhi, as all decisions are taken there. In Delhi whom do you meet and how do you meet them? I had decided to stay in Mumbai and fight.
I realised that when I was in the economic offences division, and there used to be financial crimes, I used to find many brokers in the middle. There are levels before you reach the main person. I found it larger here, to get to meet the person who could look at you and decide whether you were to contest.
It is extremely difficult to get there unless you are close to the middleman system.
Which side do you lean towards? Secular? Left? Right?
I am certainly for secular politics.
You are again hinting at the Congress.
If the hint is taken, it will be the most positive thing to happen.
When did you realise you wanted to be in politics?
It was during my tenure in the economic offences division that I realised I wanted to join politics. There were many big cases but we could not take them to any conclusion as we were servants. We could not decide the fate of the cases. We do not want to be the judiciary. The point is that before it goes to the judiciary, the master decides what goes and what does not.
Give an example.
The cases are sub judice. The cases are in the open.
Coming back to the IPS, when reinstated, you will get your salary with retrospective effect, you will get perks.
Well, money never hurts!
Your colleagues have objected to your reinstatement.
They should be talking to the court, not to me.
Sanjay Pandey is an IIT engineer, a IPS officer, a Harvard-educated person aspiring to be a politician. How would you describe yourself?
[Laughs] I am Sanjay Pandey! What else!
The Rediff Interviews


What do you think about the story?








Read what others have to say:





Number of User Comments: 4








Sub: Comments on Sanjay Pandey's ambition as politician.

Hi Sanjay, Donot join politics with the help of rougue politicians. Try start convincing the college going population thru a revolution and target the young/ ...


Posted by Ashok K Nayak









Sub: A govt servant is a govt servant

A very good interview and it is appreciated. Stuff like this will help clear the mess called Indian Politics. It is high time that the ...


Posted by shyam









Sub: Unfocused vision

Sanjay Pandey comes across as a rambler, without focus or clear ideas and dreams of granduer. He does not seem to have a clear understanding ...


Posted by Mandar









Sub: ...govt servant is a servant

Only in India would one find highly educated people in GOVERNMENT jobs totally outside their field of study - any government job - the ultimate ...


Posted by bodh






Disclaimer