Home > News > First Look


Lata's gems of a different kind

March 04, 2005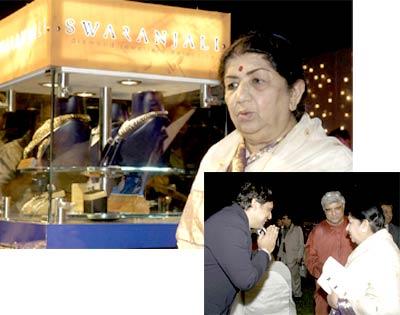 As a young girl, the ornaments worn by the artistes of her father's drama group often fascinated singer Lata Mangeshkar.
Decades later, the lingering fascination was revealed in the form of self-designed collection of diamond jewellery, which she launched on Thursday.
Called Swaranjali, the collection has been manufactured by the Mumbai-based Adora group.
The price tag would be Rs 50,000 and above. However, keeping in mind Lata's fans, the group is trying to offer the collection at cheaper rates of Rs 15,000 to Rs 20,000.
The designs include a lot of traditional motifs set in diamonds.
Photographs: Arun Patil


What do you think about the story?








Read what others have to say:





Number of User Comments: 1








Sub: fans

Dear Medum aapki aavaj is very sweets and all india have proud of u. we lesson u song's which is so good ...


Posted by vrashabh patni






Disclaimer