Home > News > First Look


First Look: Delhi Metro Line II

June 09, 2005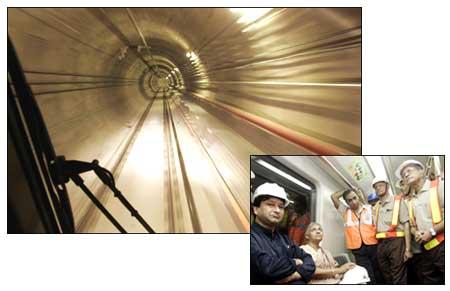 Delhi Metro Rail Corporation Managing Director E Shreedharan (R) on Thursday briefied Chief Minister Shiela Dikshit and ministers about Line II of the Delhi Metro.
The 7-km long stretch between Central Secretariat and Kashmere Gate is scheduled to open late June.
The first section of Line II of the underground Delhi Metro between Vishwavidyalaya (Delhi University) and Kashmere Gate, covering a distance of four kms, opened in December 2004.
The new section will include stations at Delhi Main connecting Old Delhi Railway station, HC Sen Marg and Fountain; at Chawri Bazar; at New Delhi linked to the New Delhi Railway station; at Rajiv Chowk connecting Palika Bazar and Central Park in Connaught Place; at Patel Chowk linking Ashoka Road and Jantar Mantar Marg and Central Secretariat linking at Rajendra Prasad Road, Red Cross Road and Raisina Road.
Photographs : PRAKASH SINGH/AFP/Getty Images


What do you think about the story?








Read what others have to say:





Number of User Comments: 8








Sub: Delhi Metro Project

Really It s amazing to have the metro train in delhi.


Posted by Gagan Shrivastava









Sub: Metro Project in Delhi

If any thing has been done after the independence is Metro only.


Posted by Balvinder Singh









Sub: Metro Train in Delhi!

Its good that public transport fasilities are growing but the thing is that people has to use the things which govt. is paying for, they ...


Posted by Morris Nathan









Sub: Good.Need More Metro Rails in other cities

It is good that public transport is getting better.What We need is more Metro Rails in other cities like Hyderabad,Bangalore,Pune,Ahmedabad,Chennai,etc. to reduce pollution,traffic and provide ...


Posted by Amit Mehta









Sub: Just one thought!

Despite all the glitzy and ultra-modern look and facilities of the much-hyped-yet-well-deserved Delhi Metro, I do feel paranoid about one thing - The security force(s) ...


Posted by Haris






Disclaimer