Home > News > First Look


Art dekko, on Marine Drive

January 20, 2005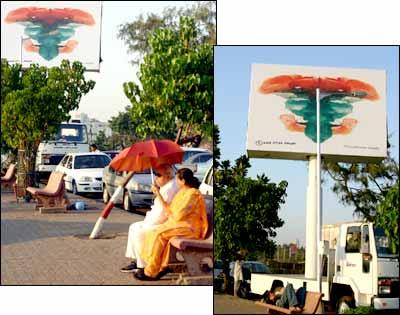 Jitish Kallat's 'mobile' work of art Conditions Apply was seen swaying slightly in the Marine Drive breeze the other day.
A signage truck has been taking Kallat's work around the city every day as part of the Mumbai Festival.
The painting, a 10 X 20 feet work of art, is done in inkblot style, has the tricolours from the Indian flag, and is supposed to set up a surprise collision between the viewer and art.
But Marine Drive in the evening, filled with joggers, oglers, love struck couples, bhel and peanut vendors and an odd journo tagging along with a photographer, largely gave the piece the cold shoulder.
An old couple was shielded comfortably from the chill wind, and the painting, and wouldn't be disturbed -- by art or prying journalists.

Also see: Mumbai's biggest party ever

The saffron umbrella and the colours of the painting made for a fine composition.
A youth was seen lying right under the hoarding totally oblivious of the tricoloured creation. When asked how he liked the work, he stared long and hard at the painting and gave this writer a puzzled look.
Talk about art reaching out to the masses, this one, it seems, is a wee bit above the regular Mumbaikar's head (no pun intended).
Did anybody notice the religious symbolism, the political significance, or the metaphor of harmonious coexistence? well, conditions apply.
Photograph: Jewella Miranda; Text: Jestin George

Also see: More than Just Jazz by the Bay