Home > News > Interview

The Rediff Interview/Vijay Amritraj

January 10, 2005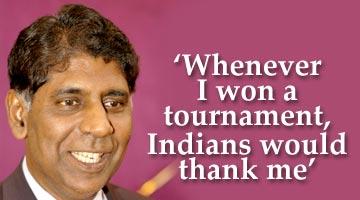 Vijay Amritraj needs no introduction, in India or abroad. For years, he was the country's brand ambassador on the world's tennis courts, the only Indian in a sport that was dominated by Americans, Europeans and Australians, the only reason the Indian flag was unfurled, the reason the Jana Gana Mana was heard.
After retiring from the tennis circuit, he became a much sought after tennis commentator on television.
Amritraj, who remains as busy today as when he was ranked by the ATP, was in India for the Chennai Open. He took the opportunity to fly down to Mumbai for the inaugural of the third Pravasi Bharatiya Divas on January 7, and also served as a panelist on the subject: New Initiatives for the Diaspora. He left for his native Chennai the same evening.
Addressing the gathered Diaspora, he said that to move forward, one must combine tradition with innovation. In between sessions, he agreed to take a few questions from Deputy Managing Editor Amberish K Diwanji, not about tennis but about being an overseas Indian in the 1970s, when Indian success stories were as rare as they are common today.

How does it feel to be here for the Pravasi Bharatiya Divas?
This is my first Pravasi Bharatiya Divas and it really feels great to be here. I am so glad that this is being done on an annual basis. I heard the prime minister's speech this (January 7) morning and it was really wonderful hearing him speak. As the prime minister said, the 21st century is India's century and there is no question about it. It is fantastic to know that this government has in place an Overseas Indian Affairs ministry, which is doing a fantastic job, because it gives us overseas Indians a ministry to connect to.
For years you were India's brand ambassador abroad. How do you look back on those years?
In the 1970s, whenever I played and won a tournament, some Indians would later come and thank me. These were doctors and engineers. When I asked them why were they thanking me, they would reply that their boss had come down to speak with them after watching me play and becoming aware that his office too had an Indian!
Things have changed considerably. You have so many Indians doing so well all over the world and they are all brand ambassadors of our country. So we have really achieved global recognition as a country and as a people.
How did you feel being for so long the sole brand ambassador of India on the tennis court, playing in countries where India was hardly known?
When I played the flag flew, the anthem was played and that is always special. I was the only person then with my skin colour, besides Arthur Ashe (the 1975 Wimbledon champion, who was African American ). People would come on Fridays to watch quarter-final and there would be seven Eurasians and me. So in that sense, you always stood out and you were aware that you were India's brand ambassador.
I always felt that my behaviour reflected on all Indians and this was a fact because people would come and tell me about how others looked at them in good light, for example in a particular hospital, after watching me on television.
This is important to me. This has taken a while but today we have achieved success not just in the economic sense but also in the prestige sense.
But much of India's recent recognition and prestige comes from our economic success?
Well, there is an old saying in the US, which I am sure you have heard of: It does not matter whether you are white or black, what matters is how much green you have!
So certainly our economic success is very important. That is the reality of the situation. Money isn't the best thing in the world, but it sure beats the second best! (laughs).
Things like that do matter. We need our finance to take care of our needs. But at the same time we are very, very proud of our culture, of our heritage and where we come from.
And I have always believed that if you don't know where you came from, you won't know where you are going.
You have travelled the world and you would have met Indians all over. So you'd know that not all Indians have success stories the way they do in the West.
That is true. The prime minister himself today pointed out that the Indians who went to the Gulf went for different reasons, as labourers, while those who went to the West went as (highly qualified) professionals.
So there are these perceptions that exist about how Indians are perceived in the West and in other countries. But the thing is that such perceptions are also changing.
Those who went to the Gulf as labourers are now doing well in every walk of life. I travel the world and get invited to different places. For me, the greatest pleasure is in meeting Indians and finding out how successful they are, wherever they are.
More rediff features on Vijay Amritraj:
Vijay Amritraj's Madras
Vijay Amritraj's top ten male tennis players of the century
The Rediff Interviews


What do you think about the story?








Read what others have to say:





Number of User Comments: 2








Sub: Healthy and positive interview !

Combining tradition with innovation ! That's it !


Posted by Dr. Cajetan Coelho









Sub: Link problem

For both, it points to the same link. Please correct it. Vijay Amritraj's Madras Vijay Amritraj's top ten male tennis players of the century ...


Posted by Kosi






Disclaimer