Home > News > Capital Buzz

Virendra Kapoor | February 07, 2005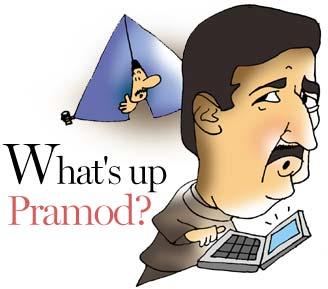 For long there have been rumours about Pramod Mahajan's proximity to the Ambanis.
Mahajan was apparently moved out of the telecom ministry when a group of cellular operators complained to then deputy prime minister Lal Kishenchand Advani against Mahajan's alleged tilt in favour of wireless in local loop operator Reliance Infocomm.
Advani told Mahajan he would have to give up telecom for another ministry. Instead of settling for another portfolio, Mahajan quit the government to work for the Bharatiya Janata Party.
Cut to the ongoing tussle between the Ambani brothers, Mukesh and Anil, over control of the huge Reliance empire the late Dhirubhai Ambani built. Of the several disclosures emerging in the battle, there is one that may needle Mahajan. The disclosure that three Delhi companies had been given 10 million (1 crore) Reliance Infocomm shares at Rs 1 per share.
Mahajan's man in Delhi, Suddhanshu Mittal, is allegedly connected with the three companies which are the beneficiaries of the Reliance largesse. At a conservative estimate, the market value of those shares is above Rs 2.5 billion (Rs 250 crores) for which a payment of a mere Rs 1 crore was made by the companies. Mittal enjoyed Mahajan's confidence and operated from the BJP leader's official bungalow, though on paper there may not be anything to link Mahajan to Mittal.
In 2003, when Mahajan was in charge of the BJP election campaign for the Rajasthan and Chhattisgarh state assembly elections, Mittal led the backroom team, providing logistical support, looking after the nitty-gritty of distribution of money and material and managing inputs on the basis of caste surveys for the selection of party candidates.
Mahajan was keen Mittal be sent to the Rajya Sabha on a BJP ticket from Rajasthan but somehow senior party leaders vetoed his candidature. In the ongoing election to the three state assemblies, Mittal is parked in Ranchi, ostensibly propping up the BJP campaign in Jharkhand.
If the media and ruling party circles have not targeted Mahajan, it speaks more about Reliance's clout than anything else.
Dry Press Club!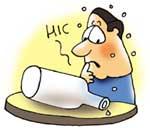 Journalists make it their business to throw stones at all and sundry, prying into the affairs of ministers and commoners alike and criticising them for all manner of wrongdoing. However, hardly anyone in the fourth estate pauses to look inwards. If they did, they would find they too are guilty of virtually every sin for which they routinely blame politicians.
Take the case of what they most pompously call the Press Club of India. Following the discovery of a financial scandal, the entire managing committee resigned. The club finds itself without funds to pay for salaries, provident fund and other mandatory dues of the employees.
Worse, they do not have money to buy liquor, the lifeblood of the club, with the suppliers refusing to extend further credit in view of the huge mountain of unpaid bills. But journalists being journalists, they cannot be so easily parted with their nightly offering to Bacchus and can be seen drinking in cars parked outside the club.
Meanwhile, using the forced exit of popular labels of whisky, rum, vodka et al, a couple of lesser-known brands have sought to fill the vacuum as part of a long-term marketing strategy. The club finds it hard to sort out the mess till a new managing committee is in place, but a legal hurdle prevents an early election. Wonder if some well-meaning politicians will step forward to organise the affairs of the high-minded journalists who have land their favourite watering hole in a major financial crisis.


Wanted: a house for Mr Ramesh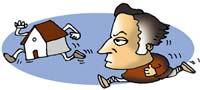 You do not get marks for decency in politics, do you?
Jairam Ramesh, secretary of the Congress party's economic affairs committee who conceived the party's successful Aam Aadmi campaign in last year's parliamentary election, is still searching for a house several months after he was elected to the Rajya Sabha from Andhra Pradesh.
Allotted a C-I type flat in Rabindra Nagar sometime in September, Ramesh cannot move in for the simple reason that its last occupant, Dasari Narayana Rao, refuses to move out.
Upon becoming the coal and mines minister in the Manmohan Singh government, Rao -- who directed many Hindi and Telugu movies -- was duly allotted a bungalow in Lodhi Estate. He took possession of that house but did not budge from the flat in Rabindra Nagar, probably on the ground that the Lodhi Estate house was not a Type-VIII bungalow, which most ministers consider an essential prerequisite of their job.
Meanwhile, Ramesh continues to stay put in his rented accommodation in a rather congested part of South Delhi.
Gossip mongers bugged in Parliament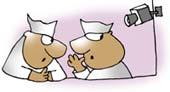 Terrorism exacts its price. Old-timers recall with nostalgia the easy and entirely frisk-free access they once enjoyed while at the Parliament House complex. Now, they have to undergo physical and electronic checks at every step. Worse, in the Central Hall of Parliament, hidden cameras and listening devices have been installed so that the authorities can record every movement and word uttered inside what was till very recently deservedly called the great hall of gossips.

Alarmed by the intimidating reach of electronic gadgetry in the very heart of Parliament, a few Opposition members are likely to take up the matter with the two presiding officers. These MPs feel that the officers have gone overboard in the name of security, thus circumscribing freedom of expression.

Illustrations: Uttam Ghosh
Capital Buzz