Home > News > First Look


'Ram', 'Lakshman' and Vajpayee

December 30, 2005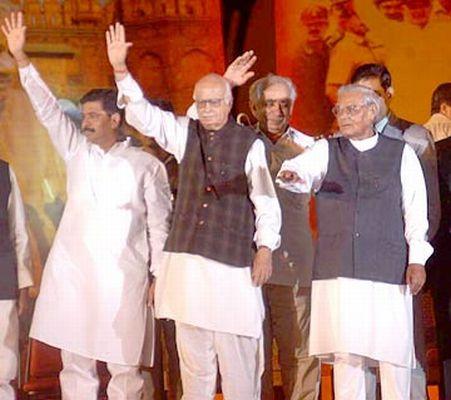 Former prime minister Atal Bihari Vajpayee Thursday night announced his retirement from active politics saying henceforth he would not contest elections.
He made the announcement at a Bharatiya Janata Party rally at Shivaji Park in Mumbai to mark the silver jubilee celebrations of the party.
In his speech, Vajpayee also likened Lal Kishenchand Advani and Pramod Mahajan to Ram and Lakshman.
Narrating a story from the Ramayana, he said his role has now become like Parsuram's who was angry over the breaking of Shiv Dhanush and wanted revenge.
However, when Parsuram got to know of the Ram's avtaar, the sage participated in Ram's coronation ceremony after his return to Ayodhya with Lakshman from the 14-year exile.
Photo: Arun Patil
Also Read:
BJP turns 25