Home > News > Specials

The Rediff Special/Sheela Bhatt in Mumbai

'Atal, Advani to blame for BJP's decline'

December 28, 2005



As India's main Opposition party celebrates 25 years of its existence, rediff.com revisits an old BJP man who is of no use to the party. Over to Madhu Deolekar:


Part I: Memoirs of a Hindutva Hawk


If I compare with 1980, I would say that in 2005 the BJP has given a go-by to value-based politics. There is a paradigm shift in the party. Leaders are now living in style and utilising party funds or the party's influence to fund their lifestyles.

The BJP has resorted to what we call the 'five-star culture'. When leaders live in expensive hotels, drive luxury cars and have luxurious homes, they need more funds. The money comes from rich people. No one gives money without expecting returns, and extracting favours.


Complete coverage: The BJP turns 25


So, like the Congress, we became a part of the web of corruption.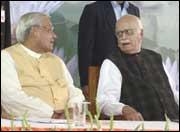 Advani and Vajpayee should be held responsible for the deterioration in the party. I am not against air travel, use of cell phones and living in five-star hotels. But a full-time leader must remember that the money is coming to party coffers from outside.

You are only the custodian of people's money; this money is not yours.

Importantly, both the Congress and the BJP have supported the projection of individuals over the party. As a result, very deftly they have sidelined their peer group in the party. I blame Advani more than Vajpayee because in the name of supporting Generation Next, he has brought in people who have a personal equation with him but no ideological relation. They are not saffron brethren.

I know Vajpayee and Advani but to me all of us were part of the family that believed in some ideology and shared a vision for the future of India.

I had ideological bonding with Advani and Vajpayee. I can't be the sycophant of an individual. Sushma Swaraj, Pramod Mahajan, Arun Jaitley, and Venkaiah Naidu have personal equations with Advani. So they are getting nominated to important posts. This was unthinkable for us in 1980.

We did everything for the party, for our vision of Hindutva; not for our leaders or some individuals.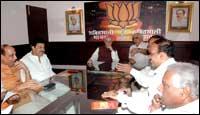 The urban image is another major problem for the BJP. In the party, leadership is not only urban-based but it is enforced from the top.

In the Congress, at least at a regional level, leadership is still coming from below.

I include myself in this list because I became general secretary of the Mumbai BJP only when the party nominated me.

People argue that today things have changed within party because India has changed, the world has changed. I know. People argue that these old-timers should know the world realities and not become hypocrites.

I have only one argument to offer. How did Mahatma Gandhi conquer the Congress and become its leader?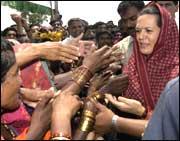 He was an outsider from South Africa. He toured the country, observed and saw that Congress leaders are coming to make speeches wearing ties and trousers. The first thing he did was to speak in Hindi. And he opted for the dhoti. His Hindi had a Gujarati diction but he became a hit. Vajpayee and Advani haven't discarded the dhoti, Sonia is putting on the sari. They are not fools. The Mahatma was not a mad man.

The BJP's Generation Next doesn't think this identification with the people is necessary.

Why is Rajnath Singh emerging stronger than others? Why is he ahead although the media did not project him as much? Because he still wears a dhoti and he talks in the language and idioms core BJP voters want to hear. He looks connected to the rural voters.

Identification with the people is not trivial in India. To create trust you must first identify with the people.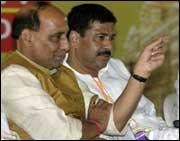 I am saying this again and again because the time has changed for you but not for karyakartas. The BJP lost in the last election because India is, without any doubt, a poor country. Leaders just can't forget the poor who are voting. I agree India is becoming urban-based but urban India is also not rich or affluent. There are lakhs of young people without jobs. The Karats or the Yechuris are living simply and still influencing people.

You may argue it's hypocrisy but it's not so because the last man in the social ladder can't be forgotten. 

At the 1980 BJP conclave in Bandra, we had erected a huge stage with the slogan:

Sab samaj ko saath liye, aage hai badhte jana [We should march ahead taking along all of the society].

In search of power and while enjoying power, the BJP has lost its credibility among its core constituencies because it didn't deliver what it promised. I was against the alliance between the BJP and the Shiv Sena because our idea of national integration and theirs is different.

We are not region-centric. And, the character of the BJP worker is different from the Sena's at the grassroot level. Mahajan converted the party ethos, culture and leadership pattern in a subtle manner. I was able to see through his game. We opposed the adjustments with the Sena. Gopinath Munde said he would get Dawood Ibrahim as soon he got power. Nothing happened, rather the Congress got Abu Salem back to India. He said Enron would be drowned in the Arabian Sea but in 13 days of power they signed the Enron agreement.

Jaswant Singh went to Kandahar with terrorists and fed them biryani. This was just not acceptable to BJP supporters. You can't talk of patriotism after the Kandahar episode.

Our voters were asking awkward questions in the last election. The BJP leaders are blaming the RSS for being hypocritical, but they are looking only at the top. They should go into the jungles of India and the underdeveloped villages of India where RSS men are working silently.

Those men are proud men. They won't go to Mahajan for favours.

I think in 2006, the RSS will launch two debates. One, does the Constitution of India reflect the ethos, moorings and the culture of the country?

Because of casteism, vote-bank politics, money power, muscle power and the absence of a system of accountability of elected representatives, whether our representative democracy is suitable for the country needs to be urgently debated.

Demography is another area the RSS would like a nationwide debate on. Muslims are in majority in many parts of India and those regions are increasing every year.

The BJP's future is bleak if they don't go back to basics. Advani and Vajpayee will fade out in the next two years.

The BJP is a mass party consisting of cadres. They want inspiration from leaders who are not corrupt. Along with the fading away of Advani and Vajpayee, Congress-isation of the BJP will be complete.

BJP leaders have to be the protectors of Hindu ethos. By their political struggle, they should ensure the ethos survives in India. If the Hindu ethos doesn't survive in India, it's a loss to humanity, not just to the Hindus of India.

All Hindus must remember that only Hindus have the freedom to not believe in god, unlike Muslims and Christians. We must struggle to keep the Hindu ethos alive and retain our freedom.

Second, the BJP must change the image of its leaders. They should empathise with the teeming millions of India, share their pain and inspire and help them achieve their aspirations.

Don't miss the first part of the veteran politician's musings: Memoirs of a Hindu hardliner
The Rediff Specials


What do you think about the story?








Read what others have to say:





Number of User Comments: 15








Sub: Atal, Advani

Madhu's analysis is excellent. Both Advani and Atalji are two faces of same coin. Both of them colluding together for the last 35 years, succeeded ...


Posted by Ch Ravi









Sub: Religion and Politics...

Excellent analysis of the current BJP and the political situation in India. Unfortunately Mr Deolekar concludes by mixing up Religion and Politics. If Hinduism is ...


Posted by Vikram









Sub: could you have done better

Atal And Advani are mortal men ,trying to live upto their ambitions. They have operated in an imperfect environment.world is an imperfect place .Results can ...


Posted by sudhir.suri









Sub: Madhu Deolekar's opinion

Mr. Deolekar is 100% correct when he said that RSS should raise the issue of representation of Indian ethoes in the Constitution. The Constitution,in its ...


Posted by Biswajit Ghoshal









Sub: Change in attitude of BJP , courtsy Atalji and Advaniji

i agree with Madhu Deolekar on the fact that both atal and advanji are responsiblr for the current state of BJP .. its is also ...


Posted by Sourabh Shende






Disclaimer