Home > News > Diary

BJP@25: Out of power, out of mind?

Syed Firdaus Ashraf in Mumbai | December 27, 2005 19:58 IST



Even though they have been out of power for more than a year, when it comes to organising a political event no one can beat the Bharatiya Janata Party.

Organising the 25th anniversary celebrations, the organisers have not forgotten to update every single event on its website: www.bjp25.org.

The media organiser of the event Atul Shah, an ex-legislator, is on his toes all the time and is always helpful towards any person who needs any information about the event.

The Website is updated regularly and there are also audio-video facilities available to surfers.

There is a touch screen computer too available on the Website to give all the details about Mumbai traffic, how to reach the location and important phone numbers.

********

Has Atal Bihari Vajpayee lost it?

What has happened to our former erudite prime minister Vajpayee?

A man who was once hopeful of winning the Nobel Peace Prize for his peace initiatives with India's arch enemy Pakistan, is as confused as his party out of power.

Vajpayee could not come to the event as his maternal uncle had passed away.

He issued a statement about the death, but our former prime minister forgot to mention his name in the obituary.

More confusing was his statement about foreign policy. If one can translate it into English, the statement is shocking.

Vajpayee says, "What do I say about foreign policy? It is difficult for me to comment on it. What do I say about Pakistan? It is becoming difficult for me to comment on this issue. I only hope we had got more time for this event."

A sad ending for a man who was instrumental in changing the road and telecommunication face of India.

********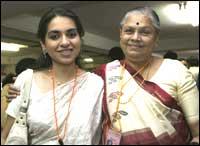 Everyone knows that the population of India is about 100 crore, but few may know the fact that 72 crore on them are in the age group of 15-35.
No wonder when you see the posters of Lal Kishenchand Advani and Vajpayee everywhere at the BJP national convention meet, it puts you off.
Why the hell does the BJP not have leaders who are younger and charismatic?
The only saving face at the convention was that of Shaina NC. A young fashion designer with beautiful eyes.
She, like many, jumped into politics two years ago with a hope of winning the election, but lost out. However, she did not give up politics, but continued helping BJP and is still with them. Why don't these oldies get some good faces to represent the party?
********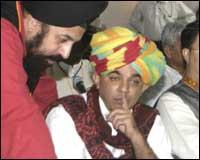 The only other young person who is dynamically good looking and was the centre of attraction is Manvendra Singh.
He is the son of former foreign minister Jaswant Singh and a member of Parliament from Barmer.
We were told that this MP is always attired in dhoti and kurta.
We were, however, wondering what he was doing with a turban on his head in Mumbai all throughout the event?
He must be bald and therefore covering up, quipped a journalist.
*******
How can we forget Pramod Mahajan when it comes to BJP?
We were hoping to catch a glimpse of this former communication minister, but could not find him.
The only thing we saw was his latest white Honda Accord parked amidst all Ambassador cars.
Way to travel in a swadeshi party, we must add.
*******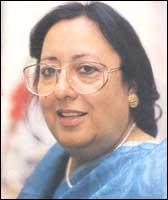 One was tired sitting on the chair for too long as nothing worth reporting was happening.
The media too was wondering what to report and what not to report as there were no juicy stories coming out of the event.
Suddenly ,one saw a lady who seemed to have lost a lot of weight.
She was Najma Heptullah, former deputy speaker of Lok Sabha and once a strong Congress leader.
Ever since she defected to BJP and when they were out of power, she became history.
There was no one looking at her and no mediaperson was interested in talking to her.
Strange are the ways of politics.
Out of power, out of sight and out of mind, isn't it?
Also Read: 
Advani to announce successor on December 31
BJP says UPA foreign policy lacks vision
BJP turns 25




Rediff Diary
Write a Diary!


What do you think about the story?








Read what others have to say:





Number of User Comments: 22








Sub: bjp

Hi dear one more local daily type journalist writing on the ongoing on the 2nd largest party of national importance which was ruling few months ...


Posted by arvind









Sub: on BJP@25

Dear Syed Ji, You forgot to mention few things like In BJP they have promos of old persons when it is India's culture to give ...


Posted by sanjita









Sub: Your Reporter

Dear Sir, The first impression from this story is the work of dirty mind. I personally don't know "your reporter" but it is clear that ...


Posted by Sameer









Sub: Congrats Mr. Syed Firdaus Ashraf

Dear Mr. Syed Firdaus Ashraf, Your diary is full of crap, full of hate about BJP. I advise you to write something good about other ...


Posted by Vikki









Sub: Another ISI Agent Reporting for Rediff

Another ISI Agent Reporting for Rediff


Posted by vijay






Disclaimer