Home > News > First Look


Fog over New Delhi

December 23, 2005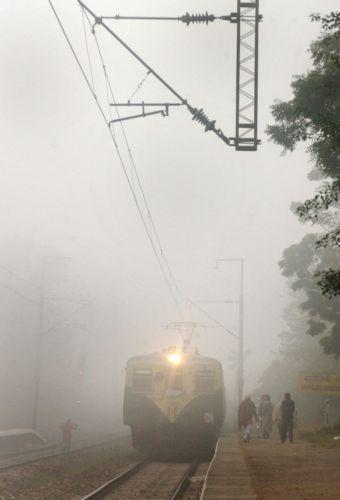 Thick fog enveloped Delhi capital and adjoining areas disrupting normal life with the low visibility leading to delays of several flights and trains.
More than 24 Indian Airlines flights were unable to take off till 10 am from the airport in New Delhi due to low visibility on the runway, airport sources said adding, only two flights of the air carrier could take off past midnight on Friday.
Several flights of private air carriers too were delayed and rescheduled, they said.
The thick fog began gathering in the wee hours of the day and had not cleared up till 10 a.m.. The foggy weather also resulted in late running of trains en route to Delhi.
As many as 18 trains have been delayed, a Northern Railway official said. The minimum temperature in the capital was recorded at 8 degrees celsius, which was normal.
The Met office has forecast that the minimum temperature will stay around 8 degrees celsius and that there will be fog in the morning.
An early morning shot of a Delhi railway station
Photograph: AFP/Getty Images


What do you think about the story?








Read what others have to say:





Number of User Comments: 1








Sub: Fogged out? Indian competency!

Every winter I see this news with little variation. Our airports are not installing all weather landing equipments but want to claim fame as International ...


Posted by Purushottam Dayama






Disclaimer