Home > News > Capital Buzz

Virendra Kapoor | December 14, 2005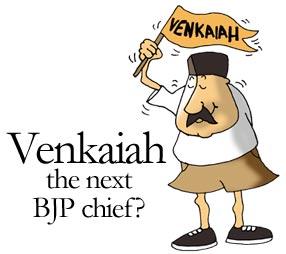 The search for the next Bharatiya Janata Party chief seems to be over.
The wise men of the Sangh Parivar have, once again, veered to the idea of anointing M Venkaiah Naidu as L K Advani's successor.
In all likelihood, Naidu will take over from his mentor after the party's forthcoming plenary session in Mumbai later this month.
With Naidu returning to the helm after a not-so-successful unfinished term earlier, Advani could continue to influence organisational affairs.
In other words, change with continuity would be ensured.
There would also be perfect coordination between the parliamentary and organisational wings.
None among the front-runners in the second generation of leaders -- Sushma Swaraj, Arun Jaitley or Rajnath Singh – were keen on stepping into Advani's over-sized shoes at this juncture.
While Advani was equally determined to relinquish the post of president, the choice seemed to have narrowed down to Naidu or Bal Apte, a low-profile Rajya Sabha member who is a former all-India head of the BJP students wing, the Akhil Bharatiya Vidyarthi Parishad.
Naidu got the nod due to his experience first as a BJP general secretary and later as its president.
On his part, Apte was unprepared for the high-profile job that would have led to an unfavourable comparison with his predecessor, given that he continues to be a self-effacing organisational man, happier interacting with the hardcore rank and file than functioning under the glare of television cameras.
As for Jaitley, Swaraj or even Pramod Mahajan, it is no secret that they would prefer waiting a couple of years for the Vajpayee-Advani twilight zone to end before making their move for the top job.
Till then, Naidu is well-equipped to fit the bill. He is to be formally installed as party chief at a low-key ceremony in Delhi sometime in January.
The inevitable Italian connection
Age seems to have finally caught up with socialist giant George Fernandes, who is in rather frail health.
The other day, before he could be persuaded to submit himself for thorough medical attention, the veteran Janata Dal-United leader insisted on having his say in the Lok Sabha. Barely able to speak due to a weak and faltering voice, and obviously in some pain while standing for a while, the Nehru-Gandhi family baiter nonetheless had his say, though much was lost in the bedlam created by ruling party members.
Fernandes alleged there was an Italian connection to the indictment of the Congress party as one of the two non-contractual beneficiaries named in the Volcker report.
He argued that Robert Formigoni, the mayor of Lombardy in northern Italy, was in India in 2002 and had paid handsome tributes to Sonia Gandhi, describing the latter as 'one hundred per cent Indian.'
Last year, Minister of State for External Affairs Rao Inderjit Singh, while visiting Italy, had pointedly sought out Formigoni.
Formigoni, Fernandes claimed, was a staunch supporter of Saddam Hussein and, for his admiration of the deposed dictator, had been allotted 24 million barrels of crude oil.
It is this Italian connection, Fernandes insisted, that explained why the Congress figured in the report.
Wanted: Supreme Court order on Bihar
Legal and political circles in Delhi are puzzled at the delay in the Supreme Court making available its detailed order into the Bihar assembly dissolution.
The multi-member bench of the apex court, headed by Chief Justice Y K Sabharwal, had held President A P J Abdul Kalam's nocturnal notification snuffing out the life of the state assembly as unconstitutional.
The written order detailing reasons for the same was to be made available in the last week of November.
Two weeks later, there was no sign of it.
He who pays the piper…
Organiser, the RSS weekly, recently published a glossy issue focusing on development activity in Rajasthan during Chief Minister Vasundhra Raje's two years in office.
The special bilingual issue, printed on expensive glazed paper, has clearly been sponsored by the BJP-led state government, featuring Raje in a most positive light.
Colour matters for babus

For years, the colour of official New Delhi has been a rather dull pale-yellow.
Barring the original North and South Blocks, built by the British in Kota stone, most post-Independence bhavans housing government offices, and tens of thousands of residential quarters of babus, have rather drab exteriors.
Now, the urban welfare ministry has decided to change the profile of babu colonies dotting the landscape within a six-kilometre radius of the central vista at Rajpath.
Senior bureaucrats are being asked to opt for their own colours while painting exteriors of their houses.
Apparently, the ministry has set apart a substantial sum for altering the image of babu homes, although the actual task will be carried out by private contractors on its panel.
But most babus are apprehensive that, given the record of the CPWD in doing a shoddy job through its own hand-picked private contractors, the new venture to lift the profile of their colonies might well turn out to be yet another scheme to divert official funds to private pockets.
Illustrations: Uttam Ghosh
Capital Buzz


What do you think about the story?








Read what others have to say:





Number of User Comments: 4








Sub: venkaiah the next BJP chief

Each segment of goverance with some powers in their hand want to propell the country in wrongful direction to which they call better goverance. Nksagar


Posted by Nksagar









Sub: advani,venkaiah, advani, venkaiah,

hamare gujarati ma ek kahavat chhe. vaara pachchi vaaro, taara pachhi maaro. after you me, and after me you.


Posted by ashok









Sub: kindly give correct details

Hi, you have mentioned Akila Bharathiya Vidhyardhi Parishad as a student wing of BJP. this detail is entirely wrong. ABVP is never a student wing ...


Posted by Muthukrishnan









Sub: Can India be a chip giant?

Who says there are 3 branches of govt - there's only one, the legislative-executive body i.e. the cabinet, govt and parliament - the judiciary are ...


Posted by labrea






Disclaimer