Home > News > Report

Vijay Shankar takes over as CBI chief

Onkar Singh in New Delhi | December 12, 2005 21:47 IST

Vijay Shankar, 1969 batch officer of the Uttar Pradesh cadre, took charge as the director of Central Bureau of Investigation on Monday at 4.30 in the evening. Soon after assuming charge the new director said that his top priority would be to chase criminals like Dawood Ibrahim and others who are absconding and have taken shelter in Pakistan.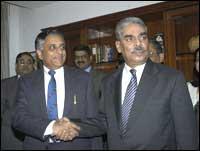 Addressing a press conference, Vijay Shankar said that he was happy that criminal like Abu Salem was brought to India to stand trial for crimes committed by him. Shankar had made several visits to Lisbon to plead for the extradition of Salem and Monica Bedi to India before the Portgese courts and seek the help of the police of that country.

"The Portgal police and the court made Salem's extradition possible with their unprecedented cooperation. If the same cooperation is extended by other countries as well, the fight against terror would go a long way," he said.

Shankar was the Director General of National Disaster Response Force and Civil Defence and was also holding the current charge of Director General, SSB.

Before moving on to the National Disaster Response Force and Civil Defence, he was additional Director in CBI from August 2005 supervising all the three: Economic Offences, Anti-Corruption and Special Crime, 2001 to January, Divisions of CBI besides overseeing investigations related to coordination with Interpol and leading investigating agency like FBI and Scotland Yard. He also served in CBI as Superintendent of Police from 1982 to 1984.

Abu Salem Extradition: Complete Coverage

When asked if he would be meeting Salem, Shankar said, "He is not a hero or something that I would go to take his autograph. He is a criminal and I would like to meet him as many times as is necessary for the purpose of investigations," he said.

"My top priority would be to go after criminals like Dawood Ibrahim and extradite them to India," he said.

He did not feel that the government of India had accepted humiliating terms to extradite Salem to India. " Portugal has different laws than what we have. They have waived death penalty. So to get Salem to India we had to accept their conditions. There is nothing wrong in that," he said, defending the decision of the government.

He complimented his predecessor U S Misra for setting up high standards for organisation. "I would like to emulate his achievements," he said. Though the CBI director has a fixed tenure of two years, Vijay Shankar is likely to carry on the job for another eight months beyond the fixed term before he retires unless he is given a different assignment.

Talking to rediff.com Shankar said, since the speaker of the Lok Sabha is looking into the matter of members caught taking money in sting operation, the CBI would not look into the matter suo-motu and wait for a specific directive from the government.

He served in the Border Security Force as DIG and IG from 1991 to 1997.  While serving in BSF as DIG and IG, Kashmir Frontier, he handled terrorism and militancy which was at its peak in the valley in the early 1990s.







What do you think about the story?








Read what others have to say:





Number of User Comments: 1








Sub: Congratulations

Hello Uncle, I hope you still remember me! I am Gudia, daughter of Dr. Krishan Dutt in meerut. Just got a great surprise! I was ...


Posted by Gudia






Disclaimer