Home > News > First Look


Vijay Shankar takes charge of CBI

December 12, 2005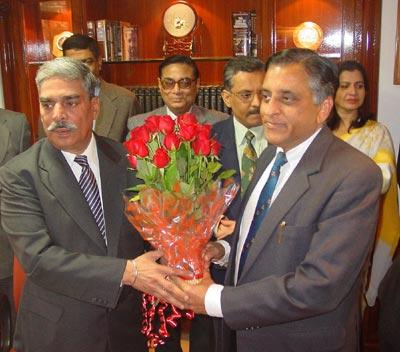 Outgoing Central Bureau of Investigation director J K Dutt (right) offers a bouquet of roses to his successor Vijay Shankar after he assumed charge in New Delhi on Monday.
Shankar was the Director General of National Disaster Response Force and Civil Defence and was also holding the current charge of Director General, Special Security Bureau.
Soon after assuming charge the new director said that his top priority would be to chase criminals like Dawood Ibrahim and others who are absconding and have taken shelter in Pakistan.
Photograph: Dijeshwar Singh/ Saab Pictures


What do you think about the story?








Read what others have to say:





Number of User Comments: 1








Sub: wish u al the best

should aim at DAVOOD EBRAHIM. work for that. god will help u. best of luck.


Posted by robin






Disclaimer