Home > News > First Look


Tibetan activists protest in New Delhi

December 06, 2005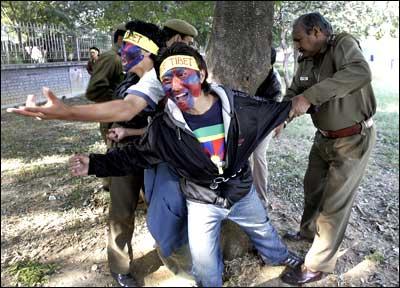 Delhi police arrest activists of the Tibetan Youth Congress, who chained and locked themselves to trees outside the Chinese embassy during a protest in New Delhi on Tuesday.
The TYC demanded the immediate termination of the patriotic re-education campaign in Tibet and the release of those arrested illegally.
According to the TYC, two monks from Drepung Monastery committed suicide and around 70 others were imprisoned as on November 29, following the intensification of Chinese government's patriotic re-education campaign.
Photo: PRAKASH SINGH/AFP/Getty Images