Home > News > PTI

Goa: Pilot killed as Navy plane crash-lands

December 05, 2005 13:11 IST
Last Updated: December 05, 2005 18:14 IST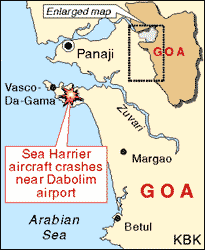 Pilot Lieutenant Commandant H P Pannu of a Sea Harrier aircraft of the Indian Navy, was charred to death when his jet caught fire after hitting the boundary wall immediately after take-off at the 'INS Hansa' base abutting Dhabolim Airport in South Goa on Monday.
Director General of Police Neraj Kumar told UNI that the Naval fire tenders doused the flames immediately. Rescuers took the seriously injured pilot to the hospital where he was declared dead.
The mishap occurred at about 11:40 am, as the pilot, was taking off on the single-seater aircraft on a routine training sortie.
© Copyright 2005 PTI. All rights reserved. Republication or redistribution of PTI content, including by framing or similar means, is expressly prohibited without the prior written consent.



What do you think about the story?








Read what others have to say:





Number of User Comments: 1








Sub: Goa: Plane crash ....

Another one bites the dust, as the song goes. More warplanes are destroyed by friendly actions (self-inflicted) than enemy actions - sub-standard training, sub-standard maintenance ...


Posted by labrea






Disclaimer