Home > News > First Look


PM Manmohan Singh in Moscow

December 05, 2005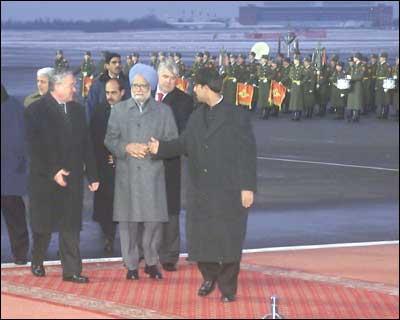 Prime Minister Manmohan Singh was given a red carpet welcome in the Russian capital Moscow on Sunday.
He is in Russia on a four-day visit for the annual India-Russia summit where energy security, defence ties and nuclear cooperation will be high on the agenda.
While speaking to the media on board his official aircraft, the PM said, "Energy security is very high on my list of priorities. There have been some interesting developments between India and Russia. We are partners in Sakhalin-1. I will discuss with President Putin how can we enlarge our co-operation in energy."
Dr Singh began his official visit on Monday by receiving the degree of 'Professor Honoris Causa' of Russia's oldest Moscow State University.
Russian Energy Minister Viktor Khristenko and Vice Premier and Defence Minister Sergei Ivanov will call on Dr Singh separately on Monday. Later, Dr Singh is to address the Indo-Russian business meet organised jointly by FICCI and CII who have sent a 14-member business delegation to Moscow, besides interacting with the local Indian community.
On Tuesday, he will hold one-to-one and delegation level talks in the Kremlin with President Vladimir Putin, at the sixth annual Indo-Russian summit.
Also See: Complete coverage: PM in Russia
Photograph: PIB


What do you think about the story?








Read what others have to say:





Number of User Comments: 3








Sub: go a head

we should move every right step with all of the countries as possible as in the world since we need to grow in most of ...


Posted by srinivas









Sub: PM must sort out the harrasment by Russian Officials at the time of entry with official visa

Dear PM, We are talking on various friendly issues on India-Russia collabrations. But Even top officials & Business executives made to sit 3/4 hours without ...


Posted by Shirish Vaidya









Sub: PM's Russia Vsit.

Russia is the most trusted friend of India !! may be USA can be one more in future !!


Posted by K. Ramamurty






Disclaimer