Home > News > Specials

The Rediff Special/George Iype

Indians in Aghanistan: Fear is the key

December 01, 2005



The murder of Ramankutty Maniappan, a Border Roads Organisation employee, in Afghanistan by the Taliban last week has plunged thousands of families in India into despair.

According to the Union ministry of external affairs officials, nearly 2,500 Indians are working on various projects -- building roads, bridges, power projects, government offices, health centres, etc -- across Afghanistan.

"I do not know what will happen to me now," says K Vijayakumar, who is about to return to Kabul after a brief holiday in Kayamkulam, his village in Kerala. Like Maniappan, Vijayakumar works in the General Reserve Engineer Force of the BRO.

M K Bhadrakumar: The politics behind Kutty's murder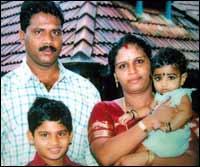 "Me and Maniappan were good friends. I don't know whether I will be killed like him," says Vijayakumar, the only earning member of his six-member family -- his wife, their child, two sisters and his parents.
Vijayakumar is a driver-cum-office assistant with the BRO at Herang, a city west of Kandahar. "I have been working there for a year now. I'm scared, but I need to go back -- to support my family," he adds.
Vijayakumar says fear -- of kidnappings and murder -- is a constant companion for Indian workers in Afghanistan. Travel between work locations is fraught with anxious moments. "The roads are empty and rocky. You do not know when armed Taliban men will materialise in front of you."
About 20 Indian companies and organisations are working in the reconstruction of Afghanistan, a country ravaged by decades of war.
One of them is the BRO, a government of India department that is involved in major projects in several other countries including Libya, Bhutan, Afghanistan and Iraq.
Maniappan was the first Indian worker the Taliban killed. But he was not the first Indian worker to be kidnapped by them in Afghanistan.
In 2003, Murali and Varada Rao -- two Indian engineers working on a road project in the Zabul province -- were abducted, forcing Indians to pay attention to the dangers of helping Afghanistan back on its feet.
The engineers were working on a major highway reconstruction project, executed by the Hyderabad-based BSC-C&C JV, a joint venture contracted by the American Louis Berge Group.
India raises Kutty's murder in UN
The abducted Indians were released 19 days later, after Afghan tribal leaders negotiated with the Taliban, which was initially demanding the release of 50 imprisoned militants as ransom.
Though the Indians were released unconditionally, the incident forced India to send an Indo-Tibetan Border Police force to various locations in Afghanistan where Indians are working.
In the last four years, India has pledged $550 million towards Afghanistan's reconstruction. The key sectors India is helping Afghanistan rebuild include infrastructure, health, education, agriculture, industry, telecommunications, information and broadcasting.
Here are a few points to put India's involvement in Afghanistan in perspective:
Most Indians in Afghanistan are working on various road projects, executed by several Indian companies. BRO is one of the biggest. Maniappan was working on the Zaranj-Delaram road project, for which India has pledged $70 million.

BRO is one of the construction companies building this strategic road that will connect landlocked Afghanistan with Iran, reducing Kabul's dependence on Pakistani ports. BRO officials say the company employs nearly 300 Indian workers on this particular project.

Many Indians in Afghanistan are working for private companies in semi-skilled capacities.

There are a number of engineers and doctors working in different capacities across the country. For instance, about 15 Indian doctors are working in Kabul and dozens of engineers are working in cities like Mazar-e-Sharif and Herat.

Most of the people working for the construction of a 220 KV double circuit transmission line from Pul-e-Khumri to Kabul and a sub-station at Kabul are from India.

Water and Power Consultancy Services (India) Ltd, an Indian company, is involved in the Salma Dam project, which will provide 42 MW of power in the Herat province.

India has reconstructed the Habibia School that boasts of alumni like Afghanistan President Hamid Karzai and former Afghan king Zahir Shah. Prime Minister Manmohan Singh inaugurated the rebuilt school during his Kabul visit in August.

Besides the infrastructure projects, India has already delivered one million tonnes of wheat to Afghanistan. New Delhi has also gifted 274 buses and three Airbus aircraft to the Ariana Afghan Airlines.
India sought Pakistan's help in rescuing BRO worker
India has deployed just 40 ITBP personnel in Afghanistan. They are guarding various Indian government-aided projects. But a number of private Indian companies working in Afghanistan do not get this security.
"We are dependent on Afghan security, which I think is not sufficient," says an Indian engineer working with the Delhi-based Water and Power Consultancy Services.
Concerned over the security of Indians in Afghanistan, the government has deputed BRO Director General K S Rao to Kabul to review the overall security situation at the ongoing project sites.
Officials say the Indian government is looking at a two-pronged strategy to step up security for Indians working in Afghanistan.
First, New Delhi plans to increase the number of ITBP personnel in Afghanistan to at least 200. This is meant to ensure that every project that Indian companies are executing in Afghanistan is provided 24x7 security.
Second, create a joint India-Afghan police security squad to protect Indians from the Taliban.
Also see
Was Kutty killed because he was Indian?
India won't abandon Afghan construction work
'He just wanted to build a new house'
Photograph: AFP/Getty Images
The Rediff Specials