Home > News > First Look


First Look: Welcoming a new Asian era

April 29, 2005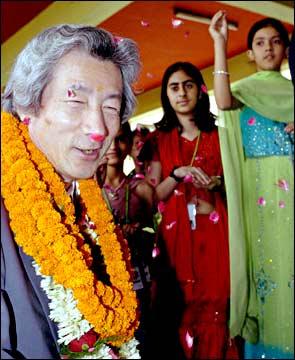 Japanese Prime Minister Junichiro Koizumi, who is on a two-day visit to India, was accorded a colourful welcome when he visited the Delhi Public School on Friday morning.

Also see: Japanese-style welcome for Koizumi
Koizumi said India and Japan should cooperate as "true global partners" in what he termed as a "new Asian era."
Koizumi's visit is being seen as an attempt to drum up support from a fellow candidate for a permanent seat on the United Nations Security Council.
Koizumi will hold talks with Prime Minister Dr Manmohan Singh before going on to Pakistan. He will then head to Luxembourg and The Netherlands.
Photograph: RAVEENDRAN/AFP/Getty Images