Home > News > First Look


Mum Vajpayee makes news

April 20, 2005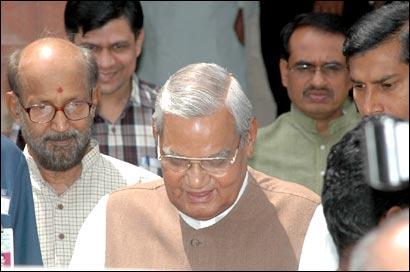 Former prime minister Atal Bihari Vajpayee is in the news again.
Just under a year after he was dislodged from the prime minister's post by a Congress-led coalition, some people want him out of the Bharatiya Janata Party too -- at least out of the party's decision making machinery.
In a recent interview to television channel NDTV 24x7, Rashtriya Swayamsevak Sangh chief K S Sudershan said Vajpayee and BJP chief Lal Kishenchand Advani must make way for the younger generation in the party.
Vajpayee -- seen here at Parliament House on Wednesday, where he refused to answer questions -- took everyone by surprise on Tuesday when he welcomed Sudershan's suggestion. 'I am anyway not doing any work in the party,' he said.

On Wednesday Sudershan was singing a new tune. Talking to reporters on the sidelines of a public function near Jaipur, the RSS chief heaped praises on the previous Vajpayee-led National Democratic Alliance government.
Former Madhya Pradesh chief minister Uma Bharati added to the drama by inviting Vajpayee to join her in tapasya at Amarkantak, her favourite getaway spot. 'I am 47 and I have already retired,' she told a television channel.
So, what's up? Is there a churning happening in the BJP? Is the younger generation ready to take over?
We will have to wait and see.


Photograph: Sondeep Shankar/Saab Press