Home > News > PTI

Mulk Raj Anand: Founding father of Indian English novel

September 28, 2004 17:06 IST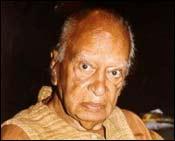 One of the founding fathers of Indian English novel, short-story writer and art critic Mulk Raj Anand was among the first to render Punjabi and Hindustani idioms into English writings.

Born in Peshawar as son of a coppersmith and soldier, Anand attended Khalsa College, Amritsar, and entered the University of Punjab in 1921, graduating with honours in 1924.

Thereafter, he pursued higher studies at Cambridge and at London University, receiving his PhD in 1929. He studied - and later lectured - at League of Nations School of Intellectual Cooperation in Geneva. On and off, he also lectured at Workers Educational Association in London between 1932 and 1945.

His varied professional graph saw him working as a scriptwriter and broadcaster in the film division of BBC in London during World War II, founding the magazine Marg, becoming the director of Kutub Publishers and teaching in India from 1948 to 1966.

He was the chairman of the Lalit Kala Academy and the president of the Lokayata Trust, founded to create a cultural centre at Hauz Khas in Delhi.

Anand, whose work Untouchable (1935) and Coolie (1936) won him wide accolades, was among those who was highly influenced by the world of Mahatma Gandhi, which was reflected in his writings.

His other famous works include Two leaves and a Bud (1937), a trilogy The Village (1939), Across the Black Waters (1940) and the Sword and the Sickle (1942). His seven-volume autobiography titled Seven Ages of Man was among his outstanding works.

He also penned short notes on books in T S Eliot's magazine Criterion and wrote on varied subjects such as Tagore, Nehru and even sculpture.

A staunch Marxist, Anand never failed in drawing a realistic picture of the poor in India. The dual problem of a deep-rooted caste system and a dominating colonial empire was aptly captured in his writing.

The real test of a novelist, as Anand himself once said, 'may lie in the transformation of words into prophesy, because what is a writer if he is not the fiery voice of the people, who through his own torments, urges and exaltations by realising the pains, frustrations and aspirations of others, and by cultivating his incipient powers of expression, transmutes in art all feeling, all thought, all experiences, thus becoming the seer of a new vision in any situation'.

His works mirror his angst against exploitation of the poor and oppressed. This emerges in Two Leaves and a Bud, which narrates the tale of a farmer who faces exploitation and death at the hands of a British official.

Anand was the 'fiery voice' of the exploited and his analysis of the socio-political situation in his work reflects that spirited fight against social injustice.

The scourge of the Indian society, untouchability, was brought to the fore with his powerful rendering of the moving tale of Bakha, an outcaste, forced to sweep latrines.

His later works, however, saw the focus more on personal dilemmas, struggles and the human psyche.

His prolific work spanning several decades included Seven Summers (1951), Morning Face (1968) and Confessions of a Lover.

Anand passed away on Tuesday morning in Pune


More reports from Maharashtra
Read about: Telgi case | Mumbai blasts


© Copyright 2006 PTI. All rights reserved. Republication or redistribution of PTI content, including by framing or similar means, is expressly prohibited without the prior written consent.