Home > News > PTI

Mulk Raj Anand passes away

September 28, 2004 11:45 IST
Last Updated: September 28, 2004 15:15 IST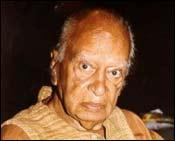 Well-known English litterateur Mulk Raj Anand died in Pune on Tuesday morning, family sources said. He was 99. He is survived by his wife and a daughter.

Anand had been residing at Lonawala-Khandala in Pune district. He was admitted to Jehangir Hospital on September 17. He died at around 8.30 am, hospital sources said.

Born, in Peshawar in 1905, Anand was a leading light of the Indian English literature scene with Untouchable and Coolie being his more popular novels.

He had been conferred with many awards, including the Padma Bhushan for his contribution to English literature. He has bequeathed his property to the Sarvodaya Trust, which he had set up.

Prime Minister Manmohan Singh and Maharashtra Chief Minister Sushilkumar Shinde called up and spoke to Anand's family members, said litterateur's caretaker Ram Gohar who was present when the writer breathed his last.


More reports from Maharashtra
Read about: Telgi case | Mumbai blasts


© Copyright 2006 PTI. All rights reserved. Republication or redistribution of PTI content, including by framing or similar means, is expressly prohibited without the prior written consent.






What do you think about the story?








Read what others have to say:





Number of User Comments: 2








Sub: Demise of Anand

We lost an icon, our link to the past and present. a real realist. this loss is an irreparable loss. Ben


Posted by ben









Sub: Memories

As soon as I saw this sad news.....something made me read it and then I remembered what we read in our English Text Books in ...


Posted by Shiva






Disclaimer