Home > News > Indo-Pak Peace Talks > PTI

Manmohan meets Musharraf

V Mohan Narayan in New York | September 24, 2004 20:02 IST
Last Updated: September 24, 2004 22:36 IST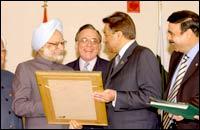 In their first-ever one-to-one interaction, Prime Minister Manmohan Singh on Friday met Pakistan President Gen Pervez Musharraf for talks to set the future direction of Indo-Pak relations.
In keeping with protocol, 71-year-old Singh drove to Roosevelt Hotel, where Musharraf is staying, for the much-talked about meeting. The two leaders shook hands warmly and posed for photographers before beginning the talks. Musharraf presented Singh an album.
Incidentally, Singh hails from a village in the present Pakistan while Musharraf, ten years younger than him, was born in Delhi in the undivided India.
The meeting takes place in the backdrop of the two leaders explicitly reaffirming their determination to carry forward the composite dialogue process covering Jammu and Kashmir and seven other outstanding issues.
External Affairs Minister K Natwar Singh, National Security Adviser J N Dixit and Foreign Secretary Shyam Saran and senior officials were also present at the meeting.
On the Pakistani side, Foreign Minister Khurshid Mahmud Kasuri, Information Minister Sheikh Rashid and National Security Adviser Tariq Aziz were present.
Setting a positive tone ahead of the meeting, Singh had said the two of them have a 'unique' opportunity in improving ties. Musharraf had said he was going into the talks with an open mind.
As part of confidence building measures, New Delhi had last week announced a liberalised visa regime covering Pakistani medical doctors, academicians, accredited journalists and for Pakistanis above 65 years of age.
The prime minister has, however, voiced concern over the existence of terrorist infrastructure in that country, reminding Musharraf of his assurance not to allow territory under Pakistan's control to be used for terrorist activities against India.
At a press conference in New York on Thursday, Musharraf had said, at present, India and Pakistan were taking 'maximalist' positions on the Kashmir issue and an agreement required both sides to come down.
Photograph: Paresh Gandhi
Also Read:
Singh, Bush skip Pak from breakfast menu
PM addresses UN General Assembly
Indo-Pak Peace Talks: The Complete Coverage
© Copyright 2003 PTI. All rights reserved. Republication or redistribution of PTI content, including by framing or similar means, is expressly prohibited without the prior written consent.