Home > News > Capital Buzz

Virendra Kapoor | September 17, 2004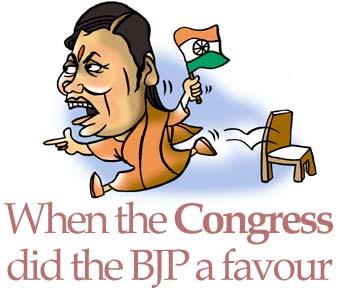 The Karnataka government's flip-flop on Uma Bharti has done her party -- and her -- a great favour.

The BJP is relieved that Chief Minister N Dharam Singh gave it a convenient excuse to ease Bharti out of the Bhopal gaddi.

Party bigwigs were none too happy with Bharti's style of functioning, her extraconstitutional aides who claimed to act on her behalf, and her whimsical ways.

Senior ministers and BJP leaders in Madhya Pradesh were biding their time waiting for an appropriate occasion. The non-bailable warrant issued by a Hubli court came as a godsend.

As for Bharti, she does not set great store by the chief minister's office or, for that matter, any office. Being a free-spirited sanyasin, the nitty-gritty of running the administration of an economically backward state was annoying for someone who likes to keep her politics simple.

So when the ruling United Progressive Alliance stalled Parliament seeking her removal after a non-bailable warrant was issued against her in connection with a 14-year-old case, involving her hoisting the national flag on Independence Day at the disputed Idgah maidan in Hubli, she took the wind out of its sails by promptly tendering her resignation.

Now basking in the glory of being a martyr defending the national flag, she does not appear to have noticed that the BJP leadership was only looking for an appropriate occasion to remove her.

Replacing Bharti with Babulal Gaur, a member of the BJP old guard in the Madhya Pradesh, has assuaged many party members in the state.

The BJP leadership is also grateful that it was given on a platter another chance to rub salt in the UPA's wounds over the presence of 'tainted' ministers in Manmohan Singh's government. While Bharti's arrest, incarceration, and release in quick succession has helped the BJP to occupy the moral high ground, the party is set to exploit the opportunity to embarrass the UPA on the question of men like Mohammed Tasleemuddin, Laloo Prasad Yadav, and a few others continuing in government.

Too innocent to be the leader

So, how long will it be before Uma Bharti is appointed president of the BJP in place of M Venkaiah Naidu?

Perhaps forever.

The broad consensus in the higher echelons of the Sangh Parivar is that while Bharti is a tireless worker committed to the party's programmes and ideology, it would be too much of a gamble to anoint her the boss.

The temperamental Bharti is considered a bit of a loose cannon, besides being largely innocent of vital national and international matters.

A section of the swadeshi lobby, which had begun wielding undue influence on her when she was chief minister of Madhya Pradesh, put her name up for the post. The proposal was promptly squashed.

Though Naidu is passable at best as BJP president, for want of a better candidate the Sangh Parivar is prone to persist with him for some more time.

Admittedly, Naidu consults L K Advani on all important matters. But the core constituency of the BJP is still ill at ease with a leader from the South who speaks both English and Hindi with a heavy accent and cuts a rather poor figure every time he appears on television, which is every other day.

Incidentally, the leader most likely to succeed Naidu, as and when the latter steps down, is Sushma Swaraj because a. she has a way with Hindi; and b. she has been quietly cultivating the top brass of the RSS-BJP more than anyone else in the second rung of the party, though she came to the BJP from the erstwhile Socialist Party.

They know who the asli PM is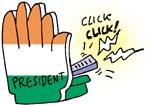 Prime Minister Manmohan Singh might protest that he is his own boss, but the world at large seems to know well where the real power in the present Indian government lies.
A recent publication by the US embassy in New Delhi titled 'People, Progress, Partnership – The Transformation of US-India Relations' gives Congress president Sonia Gandhi primacy over Singh, splashing a photograph of a beaming Gandhi shaking hands with US Secretary of State Colin Powell on the opening two pages.
Singh's own mug shot appears little bigger than a passport pic on page 11.
Think global, behave local
Unless Western multinationals believe the adage about doing in Rome as the Romans do, there can be no explanation for the frequent complaints about the shoddiness of their products and services.
Take the case of this renowned cola company, which some time ago launched its own brand of filtered water. Within months, it found to its horror that the distributor it had appointed was filling tap water in its large-sized bottles and marketing it to unwary customers. So it undertook to supply the water itself, and that led to erratic supply. Quite a few customers switched to other brands.

But the problem of adulteration of its branded water seems to have now spread to the popular one-litre bottles as well, as a secretary to the Government of India discovered to his chagrin the other day.
Suspecting the water in one of the three bottles he had purchased to be less than wholesome, he immediately sent the two unopened bottles for a quality check at the BIS laboratory. Sure enough, the water in both bottles failed the BIS tests.
Now, even if unscrupulous elements had been selling spurious water under its well-known brand, didn't the US-based cola major owe it to itself and its consumers to exercise stringent quality control?
Not-so-hidden bias, this
Despite modern education and egalitarian legislation, prejudice ingrained over generations will take a long time to die.
If a Hindi daily in western Uttar Pradesh described BSP boss Mayawati by the functional term traditionally used to describe people of her caste, and thus invites the wrath of the entire community upon itself, a Union minister with a degree from a prestigious foreign university could not help reveal his ingrained bias at a recent award function.
Apparently, after presenting the awards to a slew of male officers, whey they called upon a woman manager, the minister remarked, rather involuntarily, that he was glad that there was at least one woman among successful managers. So far so good. But then he went on to add that she clearly looked to be a Dalit!
Illustrations: Uttam Ghosh
Capital Buzz


What do you think about the story?








Read what others have to say:





Number of User Comments: 7








Sub: create storm in the cup of BJP

I think that u people are trying to create storm in the cup of BJP.But that won't work u can't break the integrity of BJP ...


Posted by karthick









Sub: Congress not helped the BJP

sir, It is not a sin of your's to become a fool,but after all you can atleast rethink before writing such nonscence articles.What are you ...


Posted by sunil









Sub: Making the hell

The whole political sinario has given u people to make a story of negative path. The B.J.P has made the national flag a issue to ...


Posted by M.G.Balakrishna









Sub: Severe infight in BJP

The clever Congress leadership has benefitted from BJPs 2nd generation rivalry. Venkayah,Jaitly, Mahajan, Sushama, Bharti; no body trust each other and each one eying the ...


Posted by dananjay









Sub: MP CM

I think, rediff should avoid to write such kind of things, they should just give the news not their own analysis, May be I am ...


Posted by GURUDUTT VERMA






Disclaimer