Home > News > PTI

'Sonia tyagi, Uma dramebaaz; why?'

Ramnath Shenoy in Gulbarga | September 12, 2004 20:28 IST
Last Updated: September 12, 2004 21:13 IST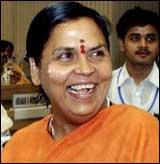 When Congress chief Sonia Gandhi renounced the post of prime minister, her action was seen as a tyag (sacrifice). They why, Uma Bharti cannot understand, is her resignation from the post of Madhya Pradesh chief minister being projected as drama?
Talking to PTI while her 3,000km Tiranga Yatra was passing through north Karnataka, the Bharatiya Janata Party leader said Gandhi had gone to meet the President with the intention of becoming prime minister. But 15 minutes later, she changed her mind.
"Why was that? (Former West Bengal chief minister) Jyoti Basu had quoted her children as saying that she did so because her life would be in danger."
It was not a tyag (sacrifice). She ran away from the responsibility. I do not know why the media projected her as a tyagi. I will never forget that. That will remain an issue.
"My action was called a drama. Actually, she was doing the drama."
Asked if it was fair on her and on the part of another BJP leader Sushma Swaraj to have threatened to agitate if Gandhi became prime minister, she said, "In a democracy, if Pervez Musharraf wins the polls, I will not allow him to become the prime minister.
"Again, in a democracy, you allow the freedom of expression. I was using my freedom of expression," Bharti said.
Bharti said Gandhi had 'very little' knowledge about the country's situation and "she is an ordinary woman married to a great family and then she became an important person. Otherwise, nothing extraordinary.
"She is not an issue at all. She is never on my mind because I consider her an ordinary person with ordinary wisdom.
"The age-old mindset is to condemn your own people. That has been the reason for slavery and that has been the reason for the slow development because we believe without English we cannot improve, without a foreign model, we cannot improve and without World Bank funding, we cannot improve.
"This mindset is in less than one per cent (of people). But it is in media, Parliament and decision making process. That is very sad. I want to remove that mindset."
Sounding philosophical about the circumstances that led to her exit as Madhya Pradesh chief minister, Bharti says it was her 'destiny'.
"For me, it was a sudden change. One day, I was Madhya Pradesh chief minister. Two days later, I was in jail. You can call it destiny.
"I did not feel the shock. It was not shock because of the cause involved in it. In fact, it was so great that I was happy and satisfied about it."
| | |
| --- | --- |
| | Also Read |
| | |
On her next role, she said, "You have to believe this. I don't seek any role... anything from this. Whatever I do, I do with full conviction. Whatever be the responsibility.

"I will be campaigning in the Maharashtra polls. Bihar elections are also there. I will also be helping the Madhya Pradesh government on developmental issues."

Asked if she enjoyed being projected as BJP mascot, she said if she was able to contribute anything to the party, 'it gives me satisfaction'.

She made it clear that 'one thing' she was not even thinking about was becoming the BJP president. "I do not want to talk about it. I don't consider it worth talking. I do not even think about it."

"I don't belong to the multinational culture in politics in which politicians start thinking about himself or herself. How I am emerging, what is my career and what is the responsibility given to me. I do not even think about it."

Asked if her leading the Tiranga Yatra and Sushma Swaraj spearheading the proposed agitation for restoration of a plaque containing Veer Savarkar's quotes at the Cellular Jail in Port Blair showed emergence of women power in the BJP, she said emergence of women was happening in national politics. She pointed out the emergence of leaders like (Tamil Nadu Chief Minster) Jayalalithaa and (Nationalist Trinamool Congress chief) Mamata Banerjee as examples.

Bharti does not think that multinational companies pose a threat to Indian culture. "I don't see invasion to the culture from MNCs. I fear invasion from (Union Human Resource Development Minister) Arjun Singh, (CPI-M leader) Harkishan Singh Surjeet and (RJD leader) Lalu Prasad," she said.

"They are the problems. They are products of our own country. But their minds need to be cleaned."


More reports from Karnataka
Read about: Telgi case | H Nagappa Abduction


© Copyright 2006 PTI. All rights reserved. Republication or redistribution of PTI content, including by framing or similar means, is expressly prohibited without the prior written consent.






What do you think about the story?








Read what others have to say:





Number of User Comments: 21








Sub: reasons

Yes. The reasons are: 1. In fact Sonia Gandhi set an example and people are following taking clue of her action - either tyagi or ...


Posted by kiran









Sub: bharati

she is always trying to grab public attention by making statement s . this kind kind of people s are realy a curse to our ...


Posted by bg









Sub: Narrow political interest not nationalism

BJP have been desperately seeking something to hide their inferiority complex after the election results and pacify the demoralized cadres. The ongoing drama are just ...


Posted by Gourabh









Sub: Uma tyagi,sonia bhankas

I endorse every view point expressed by Umaji!


Posted by dr.subhash









Sub: Thread to Indian Culture

Actual threat is from the companies coming from outside and the people who believe these companies do no pose any threat to our culture. I ...


Posted by Gaurav Goel






Disclaimer