Home > News > Interview

The Rediff Interview/Kerala Chief Minister Oommen Chandy

September 07, 2004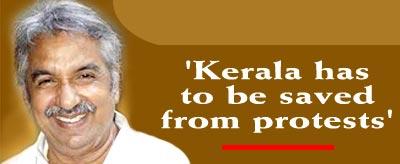 Last week Oommen Chandy, arguably the most popular Congress leader in Kerala, was sworn in as the state's 19th chief minister.
His predecessor, A K Antony, quit owning moral responsibility for the party's debacle in the April-May Lok Sabha election, when it failed to win a single seat in Kerala and together with its allies won just one. That was the official reason. But the resignation had more to do with the bitter infighting in the party that had virtually led to a collapse of the Antony administration.
The Congress faction that Chandy and Antony – who have been thick friends all these years – lead has virtually decimated the group headed by former chief minister K Karunakaran. But the octogenarian continues to create trouble. He has already attacked the new government because Chandy has refused to include his nominees as ministers.
In a chat with Deputy Managing Editor George Iype, Kerala's new chief minister explained how he plans to extricate the state from petty politics and put it on the road to development.
Why did A K Antony suddenly decide to resign?
It was not a sudden decision. He had offered to quit soon after the Lok Sabha election results came out. I must say that there was no need for Antony to quit because the Congress party's poor showing in the election was not his responsibility alone. It was a collective responsibility. It was the infighting within the party that led to the electoral debacle. Antony only followed the dictates of his conscience and resigned.
Do you think Antony's resignation and you taking up the mantle of government will end the infighting?
The Congress high command has warned all the party leaders in the state that there is no place for factional politics. The era of groupism in the Congress is over. The survival of the Congress in Kerala depends on the unity that all of us should work for. I am sure every Congress leader understands the situation. I am sure the party and my government will lead the state to a new era of development.
But already senior leaders like Karunakaran have begun attacking your government.
It is not proper to criticise or attack the government without justifiable reason. I cannot do everything that Karunakaran demands. I cannot satisfy any unreasonable demands from anyone.
Don't you think factional leaders and the coalition partners will start troubling your government soon?
My only aim is to govern Kerala well. I have no time to listen to unnecessary criticisms. I will do only things within my own limitations. My only aim is to take Kerala to a new era of development and prosperity. It is just not possible to continue with the wrong tendencies that were evident during the last three years. My government is not for any confrontation with anyone, whether it is the ruling or the opposition parties. I need the co-operation of all sections, including the opposition, to take Kerala to a new era of governance.
What is your agenda for Kerala?
My government plans to launch a 100 day action plan. We are preparing new projects and revamping the existing ones, which could be launched in this period.
I tell you, Kerala has to be saved from street-corner protests, bandhs, and unrealistic ideologies. The state has lost so many golden opportunities because, for every development project, there come numerous protest marches. My only agenda is to take Kerala to a new path of development. I want to make the state a very good investment destination.
What do you plan to do for that?
First of all I want to ensure that more employment opportunities are created. There are more than 40 lakh unemployed youth in the state. We need to find creative employment generation programmes for them. I also want to embark on a mission to remove the public mindset about Kerala that the state is not a good destination for investment. I want to improve the infrastructure facilities. I want to show before investors a vibrant Kerala.
Image: Uday Kuckian
The Rediff Interviews


What do you think about the story?








Read what others have to say:





Number of User Comments: 7








Sub: Way to go

Atlat we have a CM who has a not only a vision, but possibly could bring it into action as well. Unless Karunakaran is put ...


Posted by Sharon









Sub: Good luck to Chandy

Whatever reason may be caused to resign Antony, it is very sad to know that. Still the new C.M. is also a very good personality. ...


Posted by Remith C.R.









Sub: Reg-Interview-Ommen chandy,chief minister

Yes,George-Rediffmail's interview with the chief minister & his views sounds good & if all the ministers & the machinery works as per his stern plans ...


Posted by william joseph .e









Sub: High Time Kerala Woke up

Kerala has already missed the IT bus amongst the four southern states. High unemployment levels in the most literat state has forced malayalees to leave ...


Posted by Sachin









Sub: ''Kerala has to be saved!''

The words of Mr. Umman Chandi reflect his vision and the dream of those Keralites who love the State! It's high time to wipe off ...


Posted by Joseph






Disclaimer