Home > News > First Look


Will Savarkar lift BJP-Sena?

Vijay Singh in Mumbai | September 04, 2004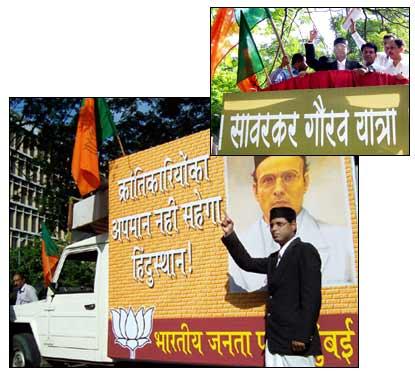 Ahead of the assembly election in Maharashtra, the Congress has given the Bharatiya Janata Party an issue to raise: Veer Savarkar.
Congress leader and Union Petroleum Minister Mani Shankar Aiyar recently ordered the removal of a plaque with a message by Savarkar from the historical Cellular Jail on the Andaman and Nicobar Islands.
Now the BJP and its alliance partner, the Shiv Sena, want him to apologise.
The Congress and the government, meanwhile, have distanced themselves from the issue.
The BJP's youth wing has now organised a signature campaign in Mumbai and its members are going around town in a 'Savarkar Rath' -- a jeep converted into a chariot.
What more, a person dressed as Savarkar stands in it.
They shout slogans against the Congress and Aiyer.
The youth wing's vice-president, Sunil Abrol, says, "We are approaching people and asking them to support us in the name of Savarkar.
"He was a freedom fighter. Who is Aiyar to comment on him? We are also criticising Nationalist Congress Party leader Sharad Pawar, because being a Maratha, he should oppose Aiyar."
The BJP and Shiv Sena are trying their best to derive political mileage out of the issue.
In fact, the BJP is organising a protest march in different parts of Maharashtra.
In the recently held general election, the BJP-Sena combine fared very badly in Mumbai, winning only one seat; the Congress won the rest five.
Photograph: Arun Patil


What do you think about the story?








Read what others have to say:





Number of User Comments: 6








Sub: Are they really concerned.

Vir Sarvarkar controversy which is being whipped by BJP-Shiv Sena combine really speaks of how hungry politicians (which includes congress and other parties) are for ...


Posted by Yogesh Pant









Sub: Veer Sawarkar

Where is my posting ? Why don't you release it ? It is atrocious you are releasing messages selectively. If you can't please remove this ...


Posted by Ajaykumar









Sub: Poor Bjp-SS

Poor guys.. They know, they have nothing to go the public with.. They will be successful in fooling some uneducated youths.. As they ahve always ...


Posted by Assad









Sub: savarkar

the issue is not that whether BJP gets benefit from the issue or not but someone has to stand up to defend our forfathers whether ...


Posted by bhupi









Sub: Cow is mere animal and beef eatable: Savarkar TEACH

Savarkar wrote " Cow is mere a useful animal and could serve as food for human beings once it outlived its utility". So who is ...


Posted by Varshney






Disclaimer