Home > News > Interview

The Rediff Interview/Editor Sajid Rashid

September 01, 2004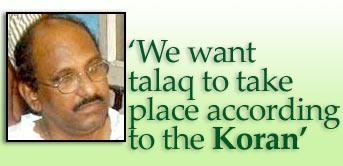 Within the Muslim community, the issue of triple talaaq is a contentious one.
On August 24, it took a violent turn in Mumbai when Sajid Rashid, editor of a local Hindi eveninger, Mahanagar, was stabbed by unidentified persons outside his office in suburban Matunga.
Rashid is known as a liberal Muslim intellectual, vociferous in his opposition to the practice of triple talaaq.
Rashid has no doubt in his mind that he was the target of fundamentalist elements within his community who wanted to cow him down.
In a chat with Vijay Singh, Rashid explained why he ruffles the feathers of these fundamentalists. Excerpts:
What happened to you and how?
On Tuesday night after completing my work I came out of my office to go home. As I was walking towards my bike, suddenly two youngsters came to me and asked, 'Tu hi Sajid Rashid hai na [Aren't you Sajid Rashid]?' Their voices were rough and I got suspicious... I tried to move away from them.
But by the time I could do that, one person attacked me from behind with a sharp weapon and the other, who was in front of me, was trying to bring out something from his pocket.
I pushed him and ran towards the office stairs. They did not follow me. My staff took me to hospital.
Who do you suspect and why did they target you?
The Urdu Times newspaper is responsible for it. It is following a Saamna type of strategy [Saamna is the Shiv Sena's daily]. In fact Urdu Times is known as Urdu Saamna among Muslims. The paper keeps publishing provocative articles against me and film lyricist Javed Akhtar. They present us as anti-Muslim and are not ready to listen to our views.
I had registered a complaint against the publisher and editor of the paper, Sayeed Ahmad. But nothing has happened.
Some time back, people were following me on a bike. I registered a complaint even then, but nothing came of it.
Now they have attacked me. They want to terrorise us, but they are wrong. I will continue my fight against them even more strongly.
Did you demand police protection when you perceived a threat?
I met Police Commissioner A N Roy and gave a written complaint to him against the newspaper. He offered me police protection, but I refused.
Now also I will not take any police protection because when I lodge a complaint they don't take any action, but they are willing to give me protection!
I am very unhappy with the police because it is not dealing with the matter under political pressure.
You oppose triple talaaq. Is that why you were attacked?
We [Muslims for Secular Democracy] had organised a seminar in the Anjuman-e-Islam school at VT [Victoria Terminus, now renamed Chhatrapati Shivaji Terminus] on June 12 and 13 in which we discussed triple talaaq. One of the speakers from Allahabad, Ali Ahmad Fatmi, said in the course of discussion that the Koran is propaganda. He explained why he was using the word 'propaganda'. He was ready to apologise for using it if anyone had any objection. People in the seminar listened without any objections.
For almost a month there was no controversy. Suddenly on July 16, Urdu Times started to write articles against me and Javed Akhtar. In their articles they called me anti-Muslim, an American agent, and a supporter of Jews.
What did the people say when the word propaganda was used?
People in that meeting understood why he used the word propaganda and in what context. Normal Muslims understand these things, unlike the fundamentalists. That paper [Urdu Times] is known for its fundamentalism and provocative articles.
But you were part of it for a decade.
I tried to make the paper liberal, but was unsuccessful. I left it in 1996 because I found that the owner of the paper was not a good person to work with.
What is a your opinion on triple talaaq?
In our community, if I tell my wife that if she goes to her parents' house I will give her talaaq, and my wife disregards my warning and goes to her parents' place, it is actually considered a divorce! Some days back, someone gave talaaq to his wife over telephone. What is this?! Common Muslims are opposing it because everybody knows that it is affecting the lives of their daughters and sisters.
We want talaaq to take place according to the Koran. It is written in the Koran that talaaq can be given in three sittings over a period of three months. The Koran gives that much time and it is appropriate.
Image: Rahil Shaikh
The Rediff Interviews


What do you think about the story?








Read what others have to say:





Number of User Comments: 22








Sub: tripple talaaq: very important plss read

hi i have read all the arguments,can someone plss answer my question...for any relation to be made or broken you need to have particular principles ...


Posted by Saif Nawaz









Sub: Islamic intoterances.

Genetic factor,very important for all living organs from man to anything,is established powewrful science & cant be ignored. History tells that formation, growth and revengeful ...


Posted by M M Gupta









Sub: DIVORCE

The interpertation of Sariah is heavily in favour of men, though our borthers say 'its not'. If there is going to be any changes to ...


Posted by Hanif Mohammed









Sub: talaq

Apparently muslims irrespective whether they are orthodox or so called librals wants to enjoy both sides-use shariat as well as law of the land as ...


Posted by bhupi









Sub: on talaq

There are too many irrational, unlawful actions exist in today's muslims, hindus and christians.Talaq is one such example.What we need is a common sense and ...


Posted by raam






Disclaimer