Home > News > PTI

Blasts meant to derail Naga talks: Rio

October 04, 2004 11:36 IST
Last Updated: October 04, 2004 18:54 IST



The twin blasts in Dimapur were intended at derailing the Naga peace talks, Nagaland Chief Minister Neiphiu Rio said on Monday.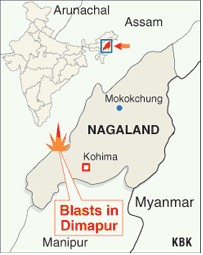 "As the Home Minister (Shivraj Patil) has said, it is moving in the right direction. But I would say that the process should move much faster because if we delay, there will be more trouble, which may interfere with and jeopardise the peace process," Rio said in Dimapur.
| | |
| --- | --- |
| | Also Read |
| | |
Hastening of the peace process "will also bring more and more underground leaders to the dialogue table", he said adding that the home minister's visit had "instilled a sense of confidence… the support showed by the Centre is tremendous".

"I appeal to the Government of India to hasten the process.

"The Nagaland government acts as a facilitator for underground groups (to join the peace process) and to hasten the process of political dialogue. We also enjoy the support of the civil society. Now it is for the two parties -- Centre and NSCN (IM) -- to come to a logical conclusion," he said.


More reports from Nagaland
Read about: Naga Ceasefire


© Copyright 2005 PTI. All rights reserved. Republication or redistribution of PTI content, including by framing or similar means, is expressly prohibited without the prior written consent.






What do you think about the story?








Read what others have to say:





Number of User Comments: 1








Sub: Clear message

This is a clear message to the NSCN (IM) that insurgent groups in Assam won't tolerate Issak-Muivah's group playing big brother in the north-east that ...


Posted by Baba Barua






Disclaimer