Home > News > Report

You have got a card from Rabri Devi!

Anand Mohan Sahay in Patna | November 25, 2004 17:47 IST
Last Updated: November 25, 2004 18:32 IST



With assembly elections due in February next year, Bihar Chief Minister Rabri Devi is all set to woo the voters.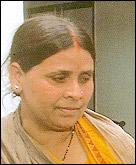 A postcard, carrying her picture on top, will be sent to each family in the state to promote her government's achievements in areas of social justice, communal harmony and infrastructure development.
The government has ordered printing of special postcards for this and the postal department has agreed to print 700,000, each costing Rs 2.
The government has approved the purchase of the cards worth Rs.1.33 million, Bihar Minister of State for Information and Public Relations Shyam Rajak said.
More reports from Bihar
Read about:
Satyendra Dubey Murder Case


What do you think about the story?








Read what others have to say:





Number of User Comments: 2








Sub: post cards

Rabri Devi is breaking the election code of conduct by doing this. She has no right to make people fool. Election commission should look into ...


Posted by shashi shanker









Sub: Rabri ,Laaloo &Elections

I guess media should take responsibility not to publicise the LALOO FACTOR in Bihar before the forthcoming elections in bihar. Laloo Prasad is trying to ...


Posted by Vishal PadiyarTE-ITShah&Anchor






Disclaimer