Home > News > First Look


BJP launches 3-day stir against seer's arrest

November 20, 2004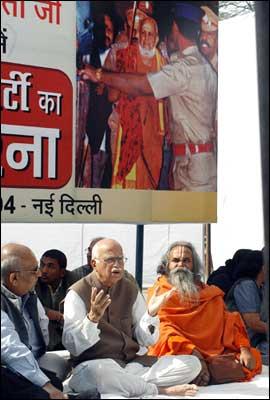 The Bharatiya Janata Party on Saturday launched a three-day, nationwide agitation to protest the arrest of Kanchi Shankaracharya Jayendra Saraswathi by the Tamil Nadu Police in a murder case.

BJP chief Lal Kishenchand Advani early in the morning started a day-long fast in New Delhi as part of this agitation.

Top party leaders, including Sushma Swaraj, Arun Jaitley, Mukhtar Abbas Naqvi, Najma Heptullah and Varun Gandhi, joined him in the fast.
Senior BJP leaders Murli Manohar Joshi and Jaswant Singh will observe a day-long fast on Sunday and Monday, respectively.
Photograph:TEKEE TANWAR/AFP/Getty Images


What do you think about the story?








Read what others have to say:





Number of User Comments: 1








Sub: drama started

Mr. Advani why not join film industry instead of politics you are great actor.


Posted by anil






Disclaimer