Home > News > Specials

The Rediff Special/Ehtasham Khan in New Delhi

November 19, 2004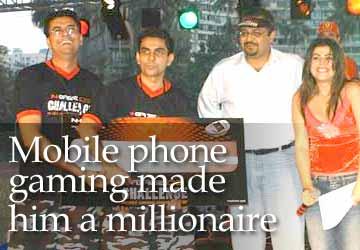 Sachin Sapra's mother came to regret presenting him a video game on his eighth birthday. Sachin would spend most of his time playing on the little electronic gadget, ignoring his studies.
However, today Asha Sapra is a proud mother. At 22, Sachin has become a millionaire, thanks to the time he spent playing those games.
The Gurgaon lad was awarded the first prize in the first nationwide competition of mobile phone games organised by cell phone manufacturer Nokia. He won Rs1 million in the finals held on October 31 at Priyadarshini Park, Napean Sea Road in Mumbai.
"I received calls from everywhere. Even the man who made the games [used for the finals] called me from Singapore. I was so excited that I now forget his name. He was surprised at how I managed to score so high," Sachin said and added "I am passionate about video games. This is what I want to do in life."
Sachin's elder brother Raman stood third in the competition. He was richer by Rs 30,000. "The people at the competition said the Sapras have won over Nokia. It [gaming] is in our blood you see," Sachin said.
The second prize of Rs 50,000 went to Mohammad Abdul Rahim Akbar of Chennai and the fourth prize of Rs 20,000 to Devesh Sahai, also from Gurgaon.
Nokia started the competition, N-Gage QD Challenge Mobile Gaming, in September to promote its N-Gage QD mobile phone model.
The Sapra brothers got to know about the competition just by chance. The family was visiting a shopping mall close to their home where the first round of the competition was being held. As the only requirement to qualify was to possess the N-Gage QD model, which the brothers had, they decided to give it a shot. The rest, as they say, is history.
Nearly 26,000 people in the age group of 18 to 32 participated in the first round. The Sapras were among the 62 participants who qualified for the finals -- the golden round -- in Mumbai.

Incidentally, no girl reached the finals.
The game in the final round was Hero Commando. While none of the other finalists could cross the 4,000 mark, Sachin scored 4,240 points.
"The manufacturer of the game asked me how I managed to score so much. I asked them what the limit of the game was. They told me 4,500 points. I was surprised how I could not cross that limit!" Sachin said.
He said he had practiced the game for one week before the finals. "I had devised a strategy. It was successful."
Sachin, a final year Bachelor of Commerce student at Delhi University, has now got an offer to become the brand promoter for Nokia's N-Gage QD model.
This is not his first triumph in a mobile phone gaming competition. About six months ago, he won a contest organised by cellular operator Hutch in Gurgaon. That was his first title. "It was a cricket game and I and my brother won the contest. We had lunch with cricketer Rahul Dravid," he said.
Since the day he got the present from his mother, his passion for video games has been undiminished. After Class 12 he started a video game parlour in 2002  in Gurgaon with an investment of Rs 500,000.

"It was difficult to convince my parents. My mother acknowledged the fact that I was serious about video games. So finally she offered me the money to start the business," Sachin recalled.
His parlour has six machines, which are used by nearly 150 people each day on an average. "Video gaming is catching up in India with the development of new technology. People who visit my shop range from 3 to 60 years of age," said Sachin.

Now, with the award money, he wants to open a branch of his parlour in a plush shopping mall in Gurgaon.
For Asha Sapra it was a learning experience. She says, "I have learnt one thing. We should encourage our children to pursue whatever they are good in."
The Rediff Specials


What do you think about the story?








Read what others have to say:





Number of User Comments: 7








Sub: why such a diffrence

when the 1st prize is 10 lacks why the second prize is just 50,000. and no photo or detail about the rest of the particepents


Posted by sunayna









Sub: ''Passion, Learning, Teaching and Job of a man should be in the same field''

Saturday, November 20, 2004: From this example there can be only one conclusion: Passion-Learning-Teaching-Job of a man should be in same field. Saint Dnyaneshwar and ...


Posted by Dr. Ashish Urkude









Sub: gr8

Great article, will surely inspire ... young ones to try achieving their dreams. Keep it up!


Posted by AnkurR









Sub: INDEED

Yes.. rightly stated Mrs Shapra, its high time indian parents matured to that kind of thinking.


Posted by abhinav









Sub: 1 million means 10 lacs!!!!

i am surprised that the writer doesnt know the difference between 1 lakh and 10 lacs. he writes 1 million for 1 lakh. surprise surprise!!! ...


Posted by prashant






Disclaimer